Popeye Loves Olive Art Space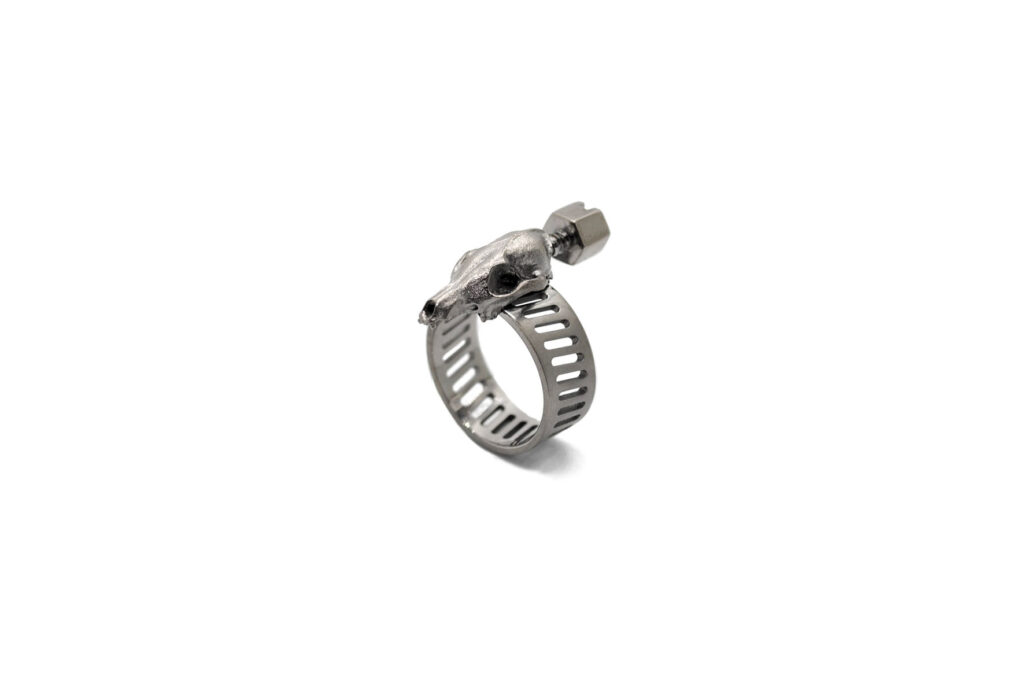 Aliki Stroumpouli
Raw
Ring
Silver
Raw is the emerging feeling inspired at Athenas Street. Lots of people, all sorts of faces, loud voices, vulgar noises, packed products, stacked food, strong smells, dirty pavements, a plethora of information, a chaotic order. Quite appalling yet intriguing is the area selling meat situated in the heart of the main food market of Athens. Raw is the meat pilled, raw are the carcasses hanging, raw is the way that it is transport-ed into big trucks, raw is how it is displayed. Raw is the process through which animals become food for humans. Raw is unfiltered and at times cruel yet it feels so attractively real.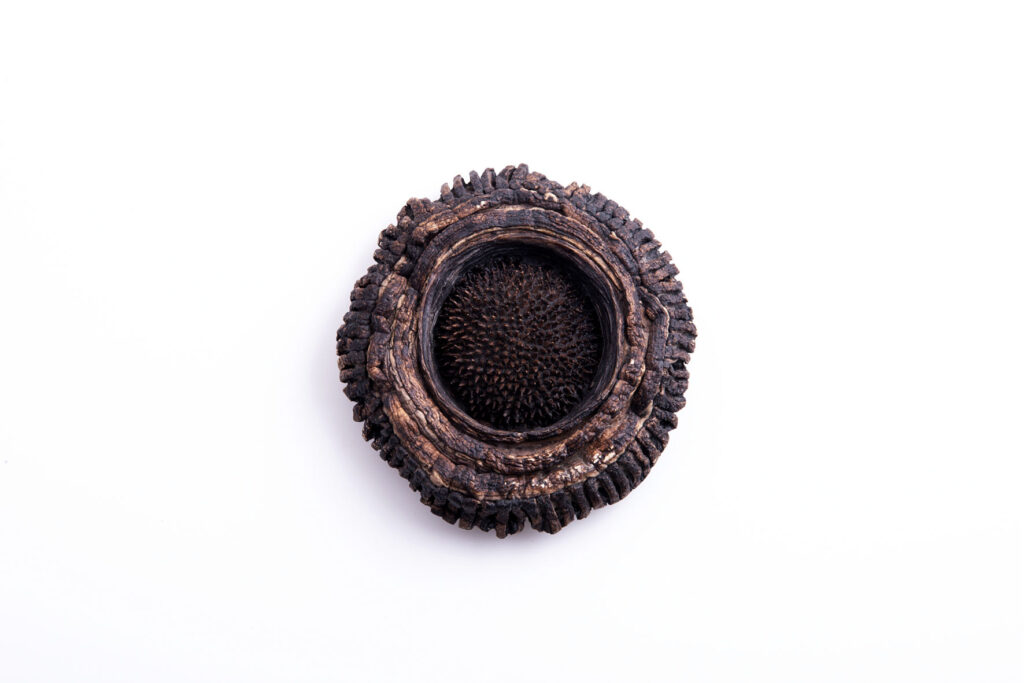 Angelos Konstantakatos
Inner Turbulence
Brooch
Mushroom, Fruit/Carpus, Resin, Color, Silver, Steel
Athenas Street is not a typical inspiration to me. It's an experience, a story, a very im-portant part of my life. I feel at home there, as I grow up taking a walk to the bazaar every Saturday since I was 15 years old. The images of Athenas Street are familiar to me, circu-lating in my mind without realizing it, without giving them much attention. It is only after creating a jewel that I discover with amazement what element of this road has finally in-spired me. Usually this inspiration hides in the details, in something barely noticeable like a ruin...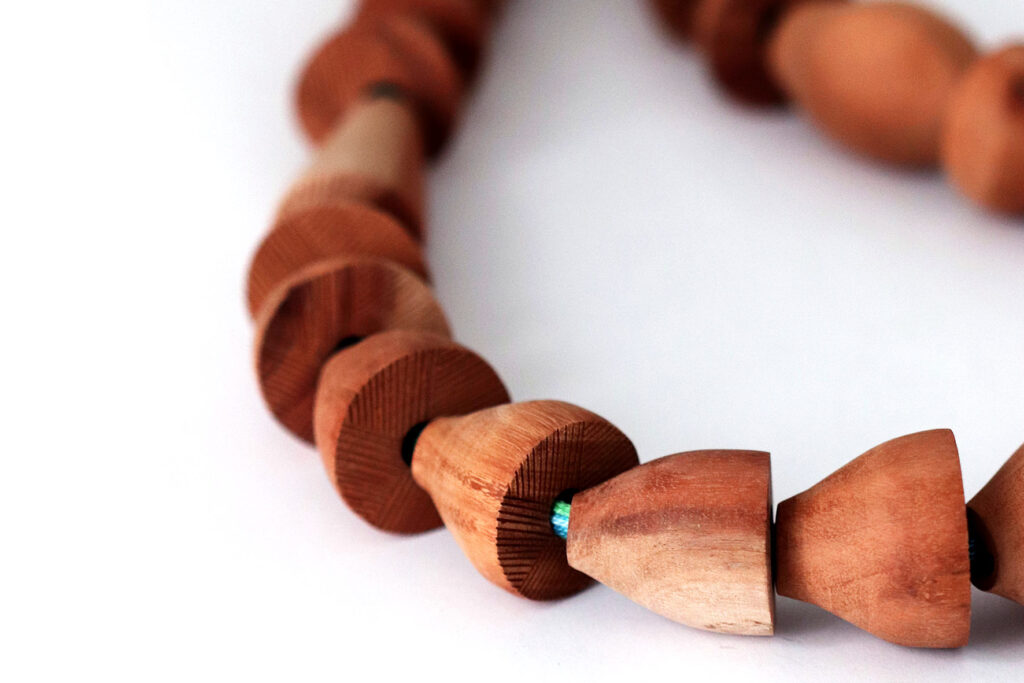 Anna Vlahos
Unworry #2
Necklace
Worry Beads, Cotton
On Athenas Street, you can see the Acropolis standing over Athens. In some ways it gives me hope, the Parthenon is this ever present example of the extraordinary things humans can create. In other ways it reminds me that civilizations end... I found the worry beads in a junk shop. They remind me to focus on the choices I can make. Such a masculine object. I want to turn them into something feminine. To bring back the beauty and uniqueness of what was once a beautiful, natural material.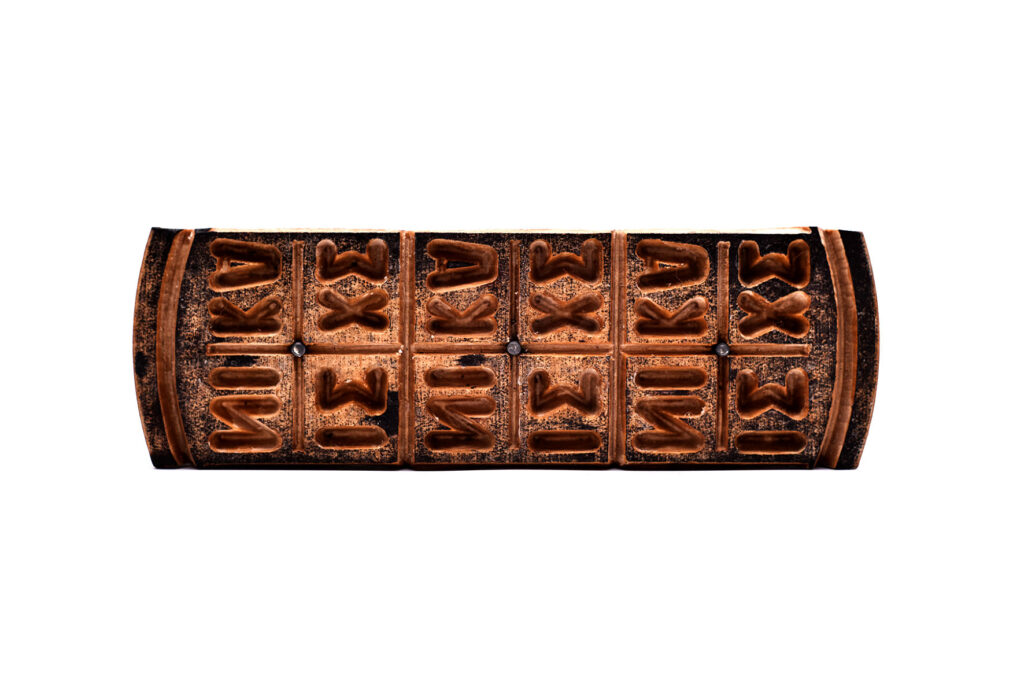 Antria Prasinou
Prosforo
Brooch
Wood, Silver
Abandonment or solitude… Man keeps records of impressions according to which he follows his path… He walks, travels, and sometimes is forced to leave his land. In order to finally free himself and experience that every place on Earth is a station. The collection Prosforo, refers to man's need to belong to a religion, an ideology, until he realizes that the Temple he has been looking for is the solitary road to Ithaca.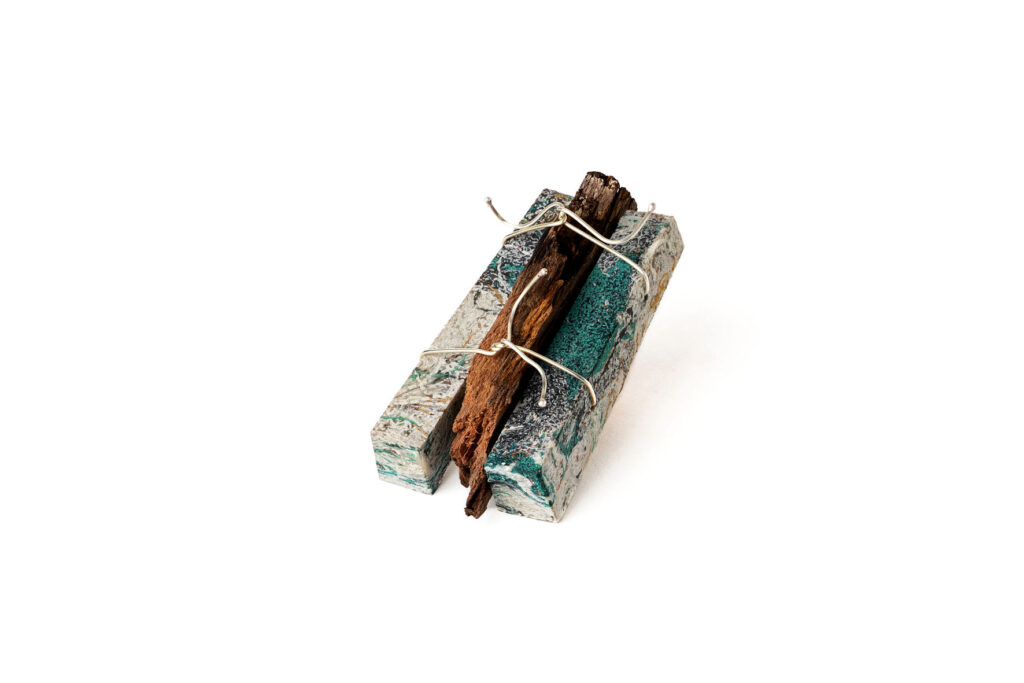 Constantinos Papadoukas
Synthesis IΙ
Brooch
Olive wood, Silver
Athenas street, named after Ancient Greek goddess Athena who was the protector of Athens once she prevailed over Poseidon by gifting the Olive tree to Kekropas, King of the city. A street that has ever since divided and united various states, cultures and topographies. Amidst Neoclassical buildings arose scaffoldings, among antiquaries, fast food restau-rants; cultures and civilizations mingle in an effort for unity. Employing Olive wood, silver, and composites the series builds on the notion of fusion, permanent or temporary, successful or not. Athenas street a mixing pot of diversity.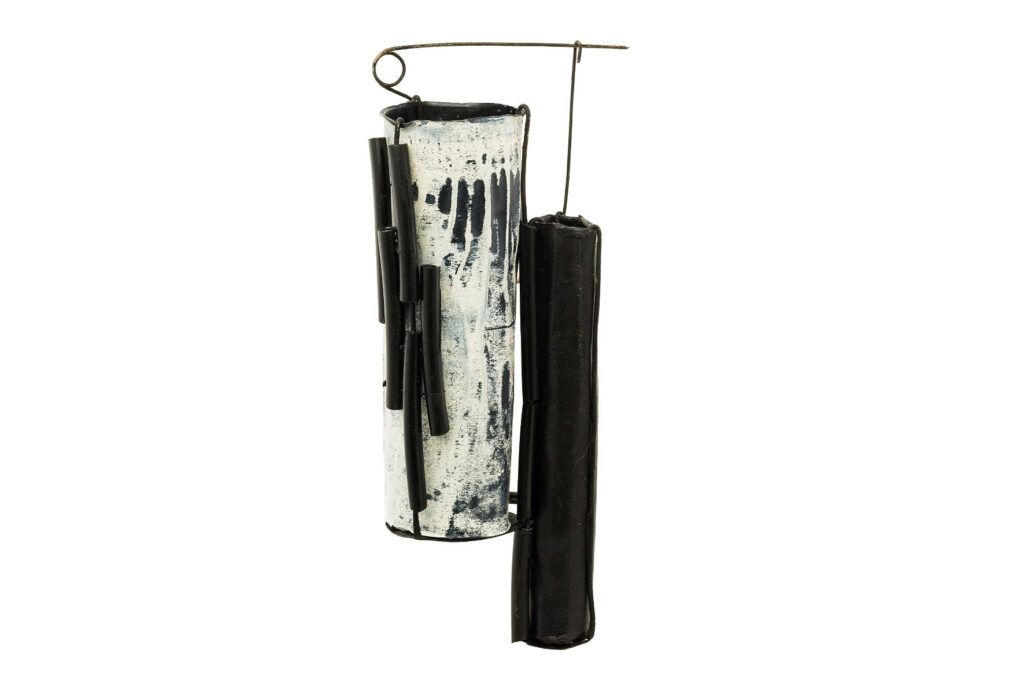 Elli Xippa
Ruins #2
Brooch
Pvc Sheet, Pvc Fabric, Pvc Pipes, Bronze, Leather
Athenas Street! I just want to wander on it, recall memories of it, smell its perfume - that of her old days, when I was young; a newcomer in this beautiful place. When the photos were black and white, and the phones were hanging on the wall, when Athinas Street wore its amazing, beautiful old buildings! I have seen Athinas Street at night too, when the market used to open its doors to the people long before dawn when it was full of life, colors, smell and sounds; traders, gamesters, prostitutes! Tavernas with wonderful scents, tripe soup, the classic late-night meal of the drunk and the dazed. Today I am crossing the street and I nostalgically look back on those days.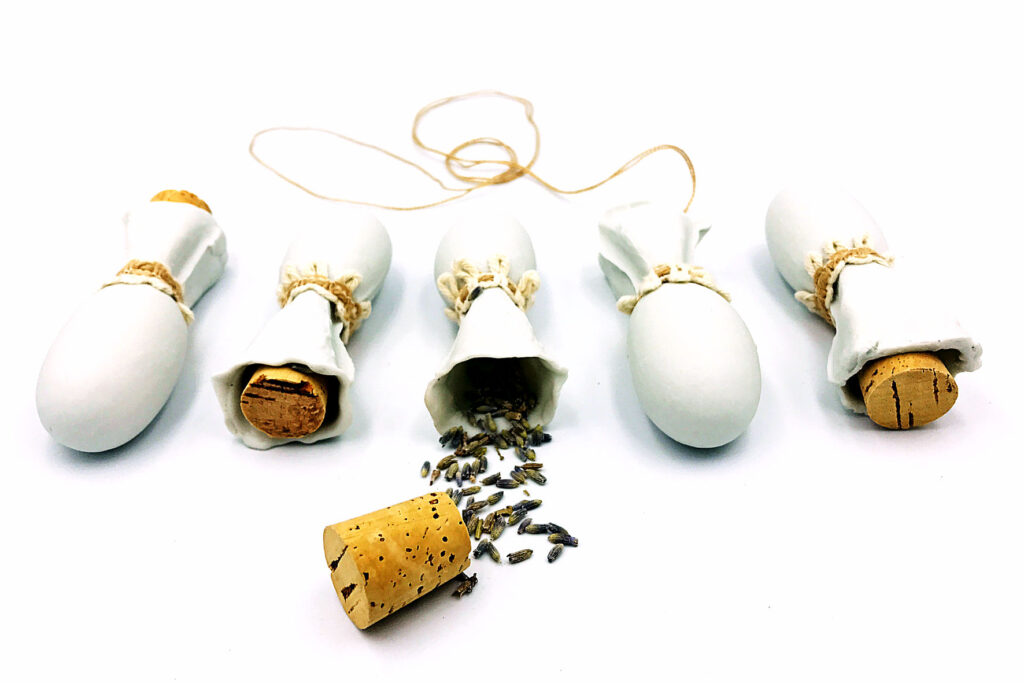 Erato Kouloubi
Wealth vs Poverty: Purple Gold
Pendant/Object (set of 5)
Porcelain, Lavender Seeds, Lavender Essential Oil, Cork, Thread, Embroidery
The ancient Greeks discovered that if the lavender flowers were crushed and burned, then the smoke released was particularly relaxing. The wealthy people living on Athenas Street used lavender to perfume their baths and to beautify their skin. It was a daily ritual.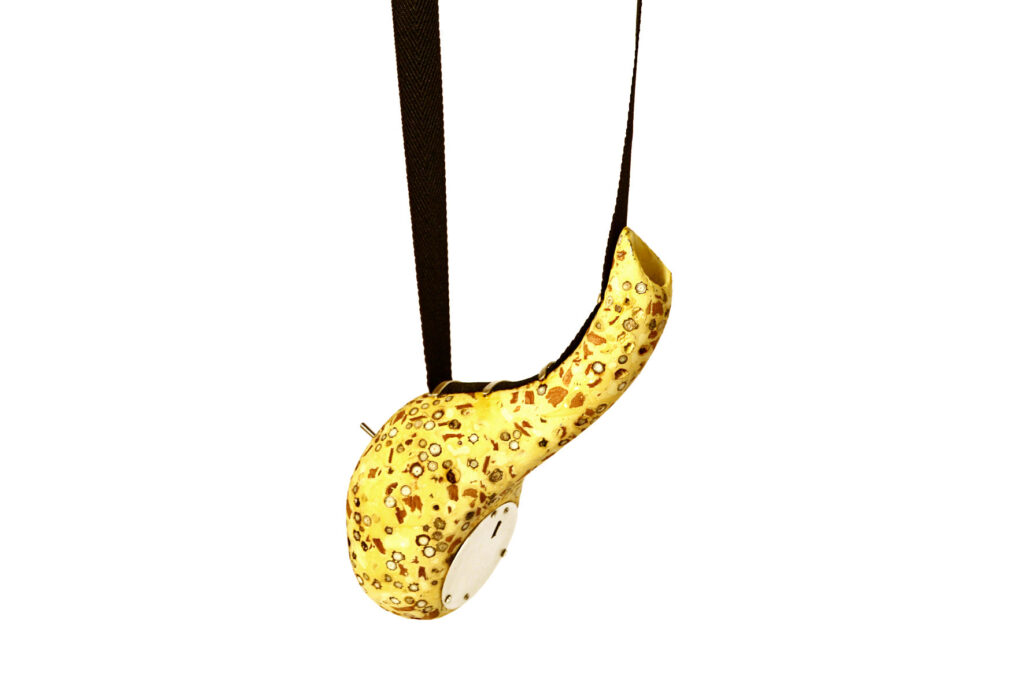 George Giannoutsos
Sound pot II
Pendant
Cinnamon & Pepper Mix Terrazzo, Sterling Silver, Electronic Parts, Fabric
According to Greek mythology, the goddess Athena gave to the Athenians the first olive tree. It brought wood, oil, and food, and became a symbol of Athenian economic prosperity. Nowadays Athena's str. is the main gastronomic source of the city where the meat and fish markets and small spice shops are based among tools, apparel and flea market shops... The street attracts a variety of people: Greeks, tourists, immigrants, old, young, mentally ill, homeless, working, shopping or ambling. This mix of people, goods, and transports creates a special atmosphere, stimulating the senses of smell, sight, and hearing.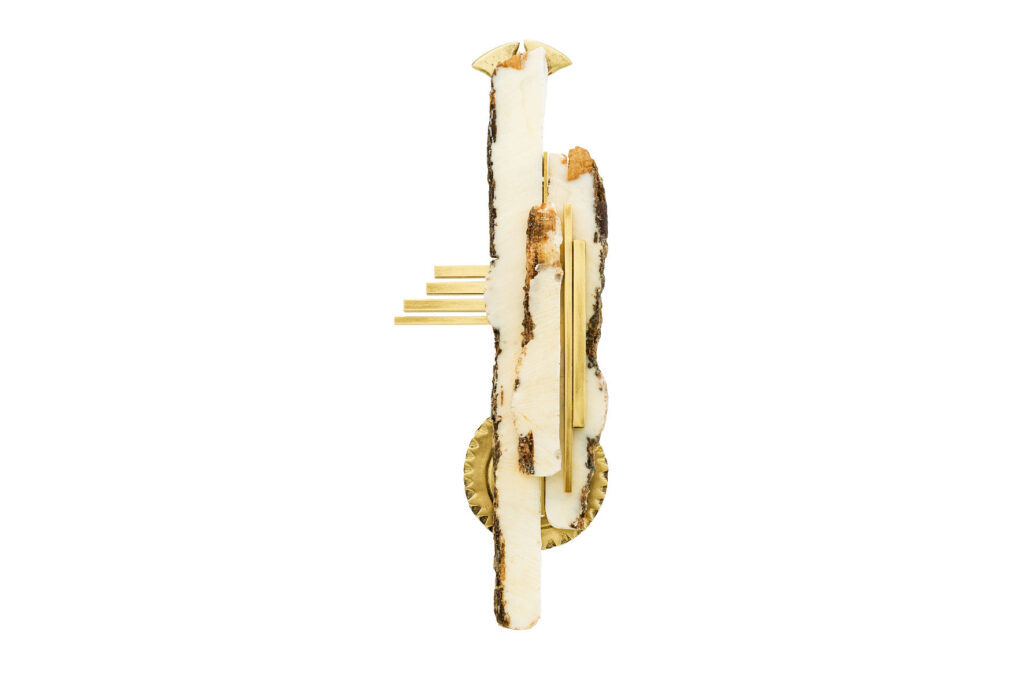 Lily Kanellopoulou
Memory views I
Brooch
Resin, Wood, Bronze, Stainless Steel, Pigments
My father who was always making things with his hands inspired me as a child and influ-enced my life as an adult. He had taken me for my first walk at Athena's Street, to show me the buildings he was constructing at the area, the shops he was buying tools, the fish market and the hand-made production of copper and bronze pieces at my grandfather's shop nearby. Omonia - Athena's - Monastiraki is a walk full of childish memories. Today the changes, the disasters, the alteration of surroundings and people, the taste of the things that are lost, leave a void in my soul......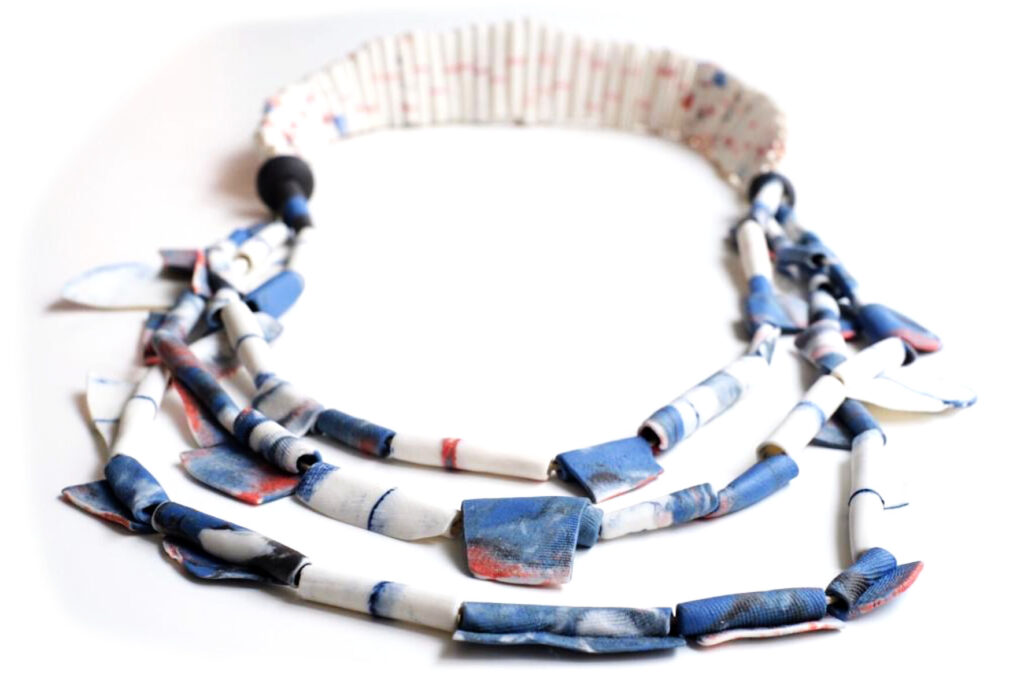 Maria Cepissakova
Untitled #1
Necklace
Porcelain, Pigments, Waxed Cord
The contra-poles of life so far apart, accumulated on a street. This is how I bring recycling, multi-colored, shaped and dried leftovers in combination with pure, white untouched porcelain, into a work. Poverty next to capital, hope next to greed. Layered and tailored, it creates a profile that inspires me in my work.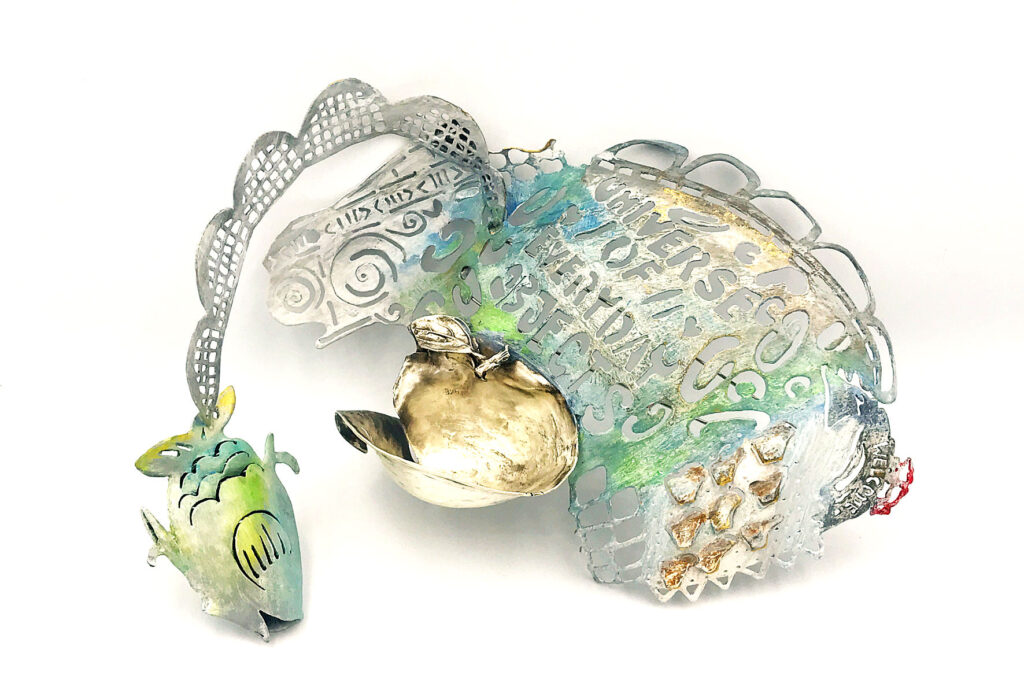 Maria Tsimpiskaki
Universe of everyday objects…The new life of some antique silverware
Brooch
Antique Silverware, Silver, Copper, Pigments, Steel Wire
This body of work is inspired by the history, the secrets, the past and the present of... "Athena's Street". It is the "Merchants' street" or the "street of miracles" as Athenians love to call it. It is the street where you can meet every kind of people, merchants, workers, petty traders, urban residents, countrymen, criminals, and angels, and buy every kind of stool, food, spices, antique… I decided to give a new life to the old antiques I bought from Athena Street and to capture through them some moments of the past and the present.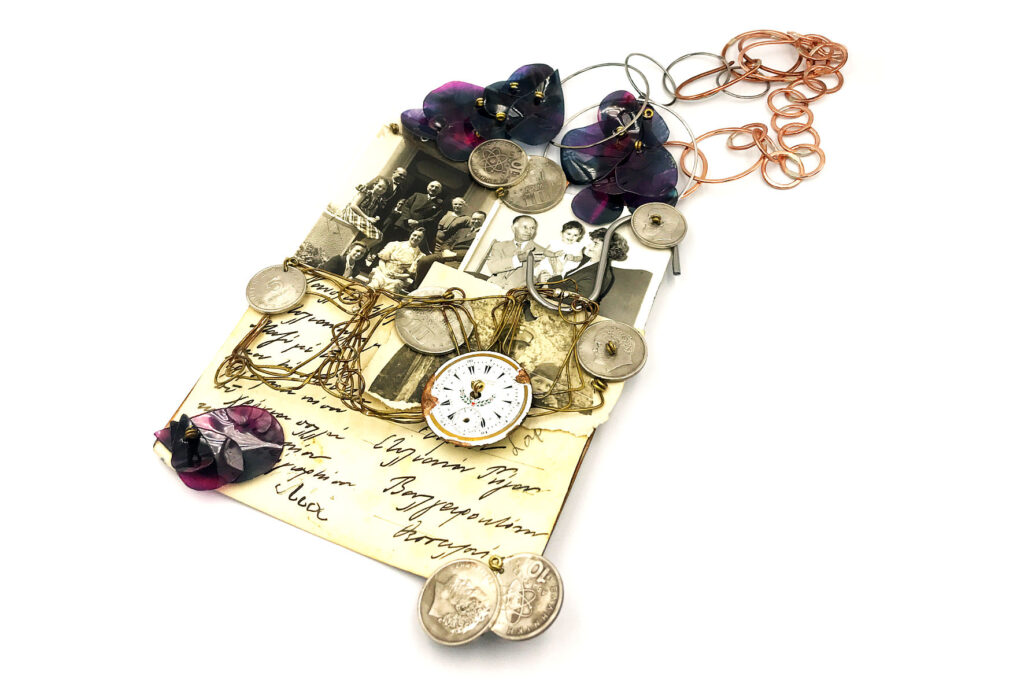 Marina Zachou
Trading Past, Better Future?
Pendant
Old Photographs, Greek Coins-Published Before Euros, Copper, Bronze, Silver, Nylon, Printed Photographs
Among the things you can find in Athenas str are a lot of personal items.Shops which sell old photographs, old coins, old books, etc. Pieces of people's life that were sold in hope that the money earned will provide a better future. But how can this be? There is some-thing extremely sad when you find old family photographs for sale. I once asked about it and the answer was that photographs are just given not bought... The need of a new be-ginning.... Trade your past, your stories... Better future?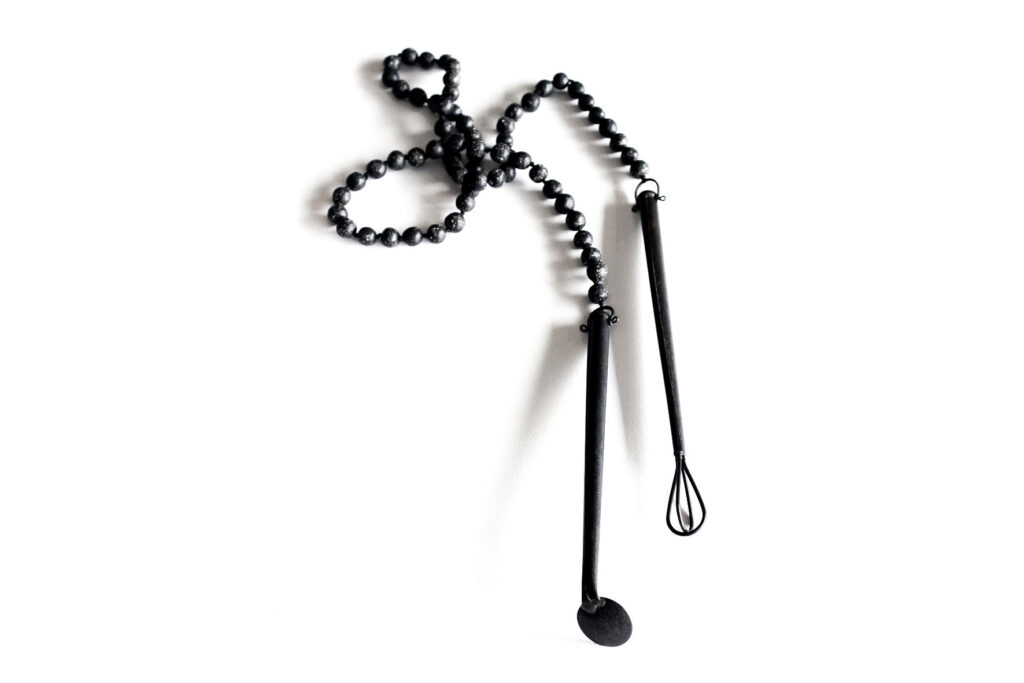 Niki Stylianou
Drowning Sorrows Shadow Dancing - Ritualistic Object #1
Necklace
Greek Coffee Stirrers, Bronze, Polymer Clay, Silver Dust, Cord
Athenas Street. A pivotal axis in the city center that balances raw sensory experience, multi [cultural/social/gender] expressions and clashing energetic fields. Although it has a Goddess's name, it has been and still is, run by men. I choose to examine through female lenses, emotional and/or ritualistic states that until lately belonged to the realm of the male.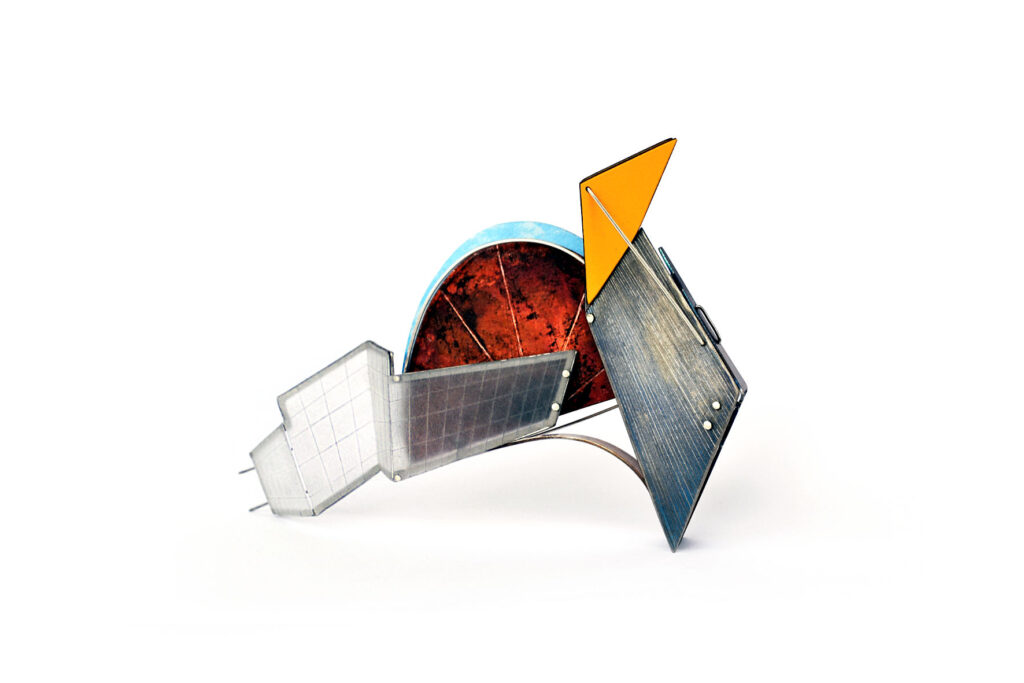 Vasia Pachi
Collage City 01
Brooch
Stainless Steel, Copper, Silver, Formica, Pvc
Athenas Street owns a unique identity, recounting the city's life in an original way through the years. Located in the core of the city resembles an eternal structure that is never completed while retaining the layers of time, it is an area that recalls the collective memory. It can be described as a living organism in a constant transformation or an open shape tending to all directions.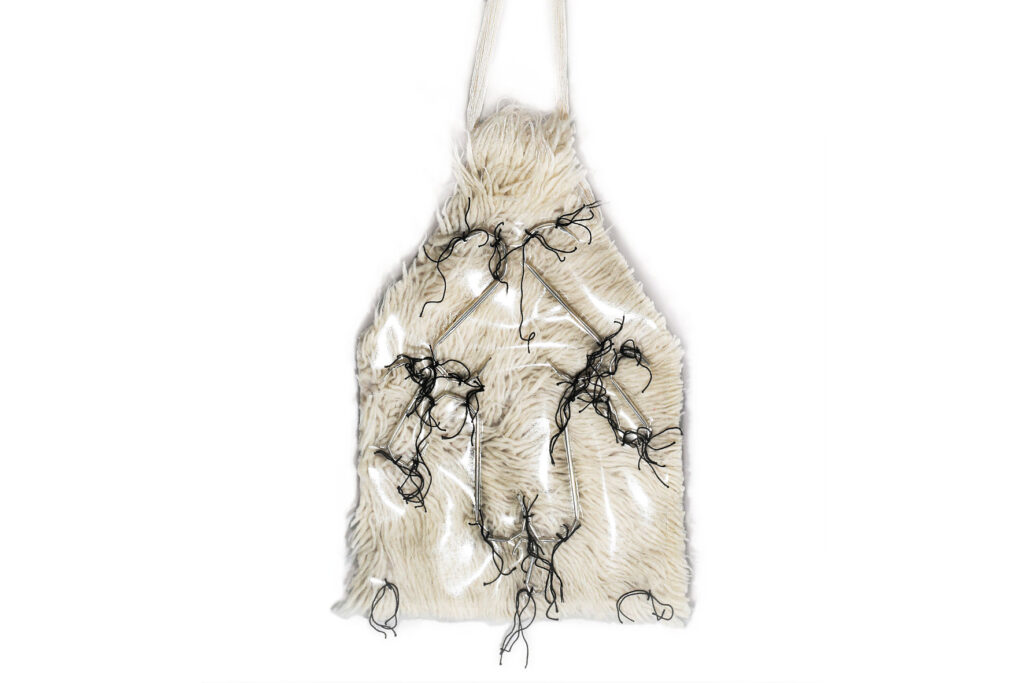 Xenia Deimezi
The Glorious City
Necklace
Woollen Carpet, Silver, Cotton Thread
Calm down. With a little bit of control we'll make it through. The class that would bring the change fell asleep. We can play leadership too. Sleep ... now it's quiet. Our times. Sleep, food and fuck. The bullies pray on our pillow And the killers are working for us. Katerina Gogou 1978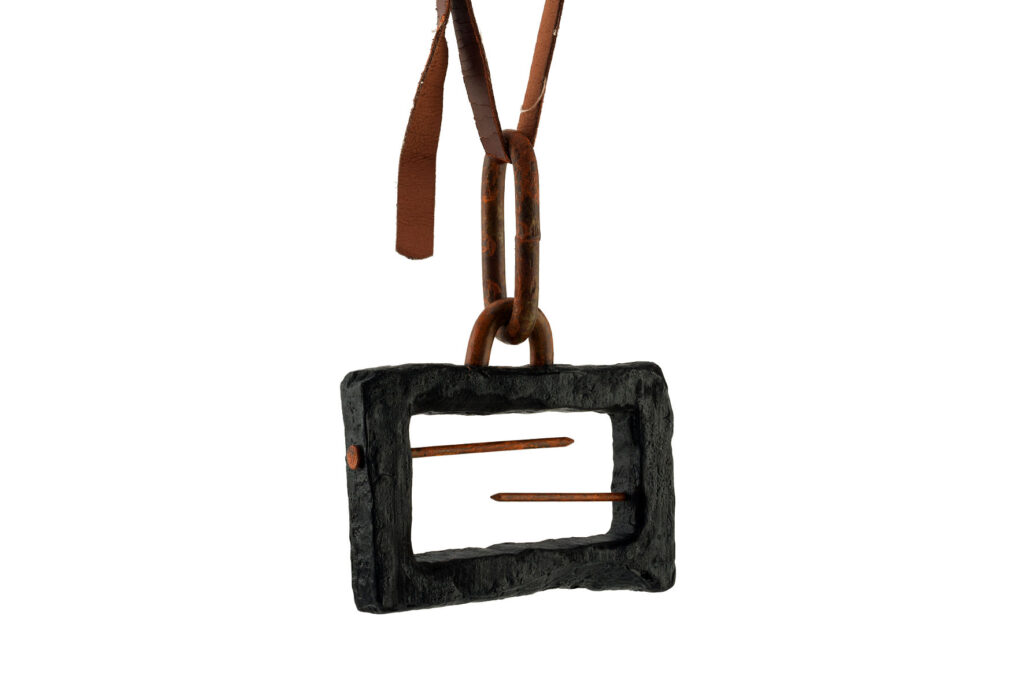 Yakinthi Oikonomou
Ghetto
Necklace
Object, Burnt wood, Rusty Nails, Rusty Chain, Used Plastic Belt, Silver, Leather, Acrylics
Athenas Street. As a young student in the 80's, I was fascinated by the place immediately. It was the street of wonders … colours, smells, voices. Thirty-five years later, the colors, the smells, the voices are still here, but there are also drug addicts and dealers, prostitutes and immigrants. Now, all the unwanted people of the city have found refuge here.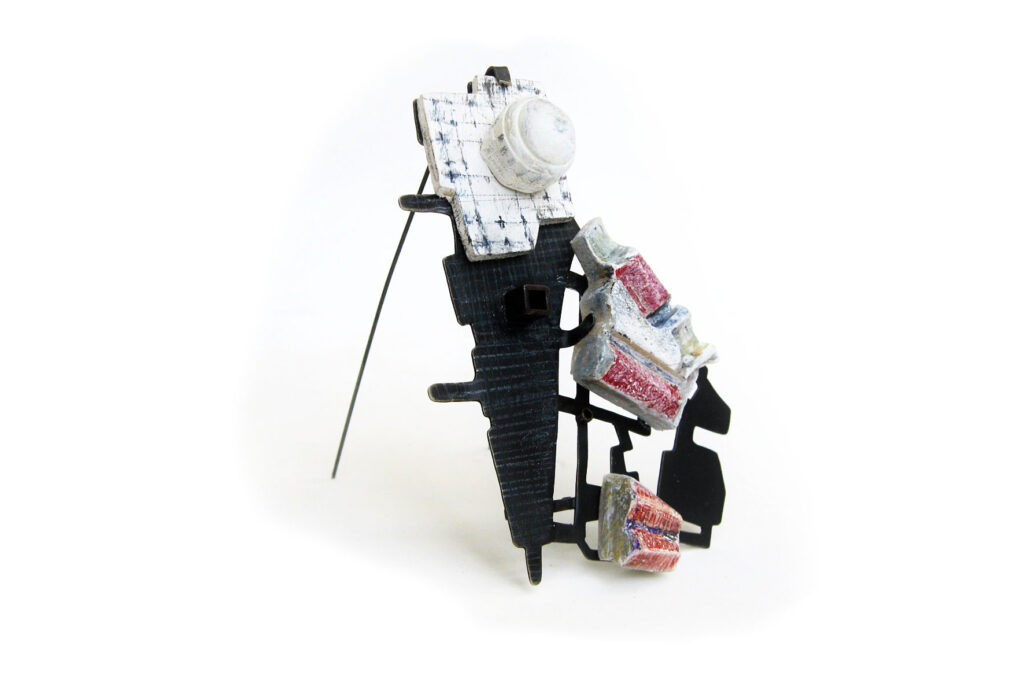 Yiota Vogli
Traces of Time, Street View III
Brooch
Alpaca, Pewter, Wood, Porcelain Pulp, Pencil Drawing, Patina, Steel
I have assembled an urban area suspended between reality and fantasy by mapping from above se-lected buildings, old and new, squares and sidewalks of Athenas Street - the oldest commercial and noisy street in the center of Athens - trying to compose documentary images made out of observa-tion not only of the past but of the contemporary reality by presenting a collage of the area chal-lenged by new visions, inquiring the relationship between space and identity.
---
---
Throughout the years Athenas Street has been the market where the western world met the world of the East. It mutated from glorious with its merchants' residencies, to a ghetto of workers, petty traders, prostitutes, and criminals as a constant battlefield.
In contradiction to that, it was named after the goddess Athena, a beloved deity of the ancient Greeks, the personification of wisdom, knowledge, and art.
It connects the Monastiraki area (the way to ascend the sacred hill of Acropolis) with Omonia Square (the heart of the city) and is one of the main streets of Athens.
Popeye loves Olive has invited 17 artists, to comment on how history prevails and how daily life has changed over the centuries, by selecting their materials from this particular street and by creating a community through social media to exchange their inspirational seeds, photos, and stories.
---
Artists:
Aliki Stroumpouli / Anna Vlahos / Angelos Konstantakatos / Antria Prasinou / Constantinos Papadoukas / Elli Xippa / Erato Kouloubi / George Giannoutsos / Lily Kanellopoulou / Maria Cepissakova / Maria Tsimpiskaki / Marina Zachou / Niki Stylianou / Vasia Pachi / Xenia Deimezi / Yakinthi Oikonomou / Yiota Vogli
---