Anamma Studio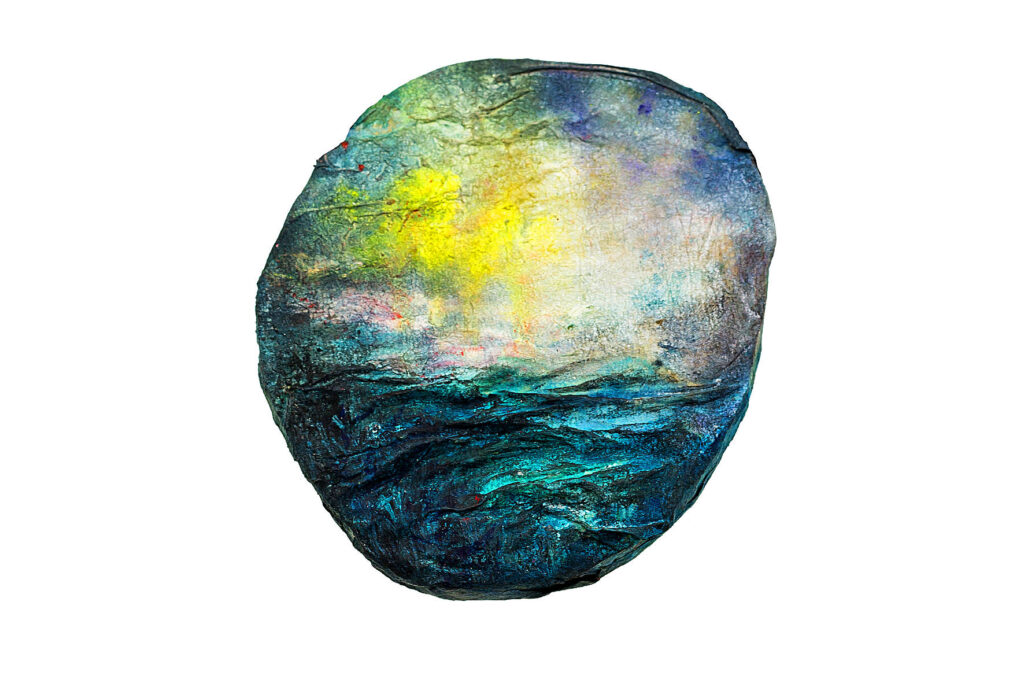 Angeliki Madi
The Circles of Life
Brooch (one of a set)
Wood, Colour, Silver
Life-Death -Life A perpetual cycle. A burning piece of wood, It gets engraved, It gets burned once again, And blackens up. A story that never reaches its end, Right before everything is burned, And lost forever, It comes back to life, It is rebirthed as a jewellery.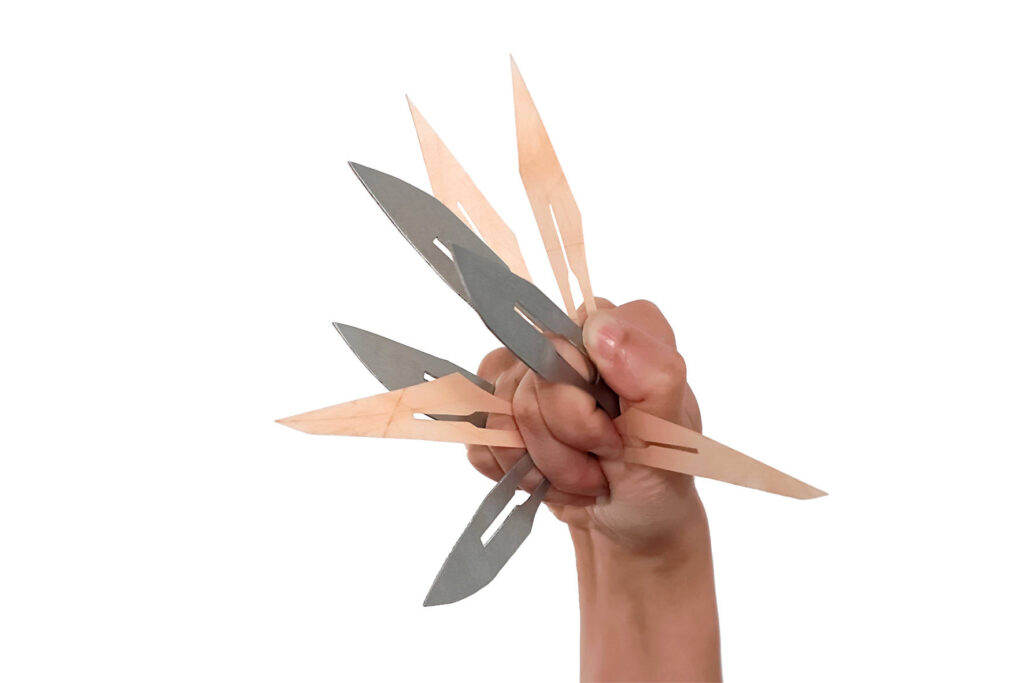 Dimitra Papamerkouri
Self Protection Tools
Objects
Steel, PVC
I explore the meaning of skin as a surface, a border, between the self and the world. The skin becomes a means to understanding these two worlds, the inner and the outer, the inside and outside. I use the lancet as a symbol of introspection, revelation and understanding of the inner world. I create objects that become a new space, an extension, an interaction between the environment and my self. They become tools of protection and defense.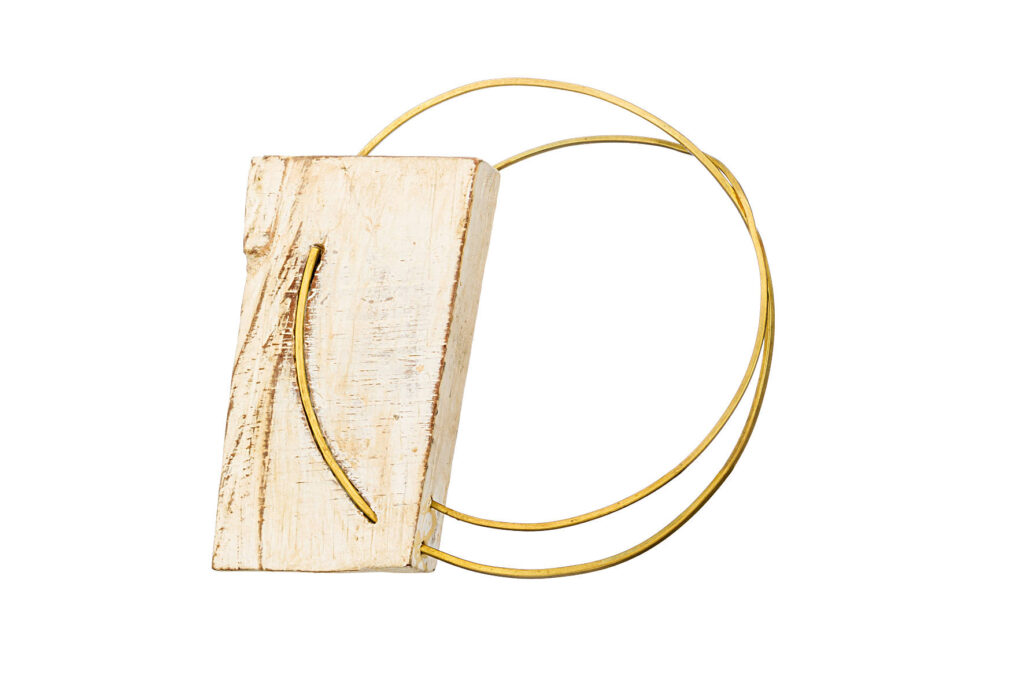 Eugenia Feroussi
Kaplanon #11
Brooch
Wood, Brass, Chalk Paint
Ioanna Dimitrakopoulos
Gingko Leaf
Brooch (one of a set)
Silver, Alcohol Ink
The gingko biloba tree grows in China, Japan, Northern Europe and the USA. Its leaves have healing properties and are used in medicine. I am touched by its history, the force of nature and the symbolism of endurance and survival.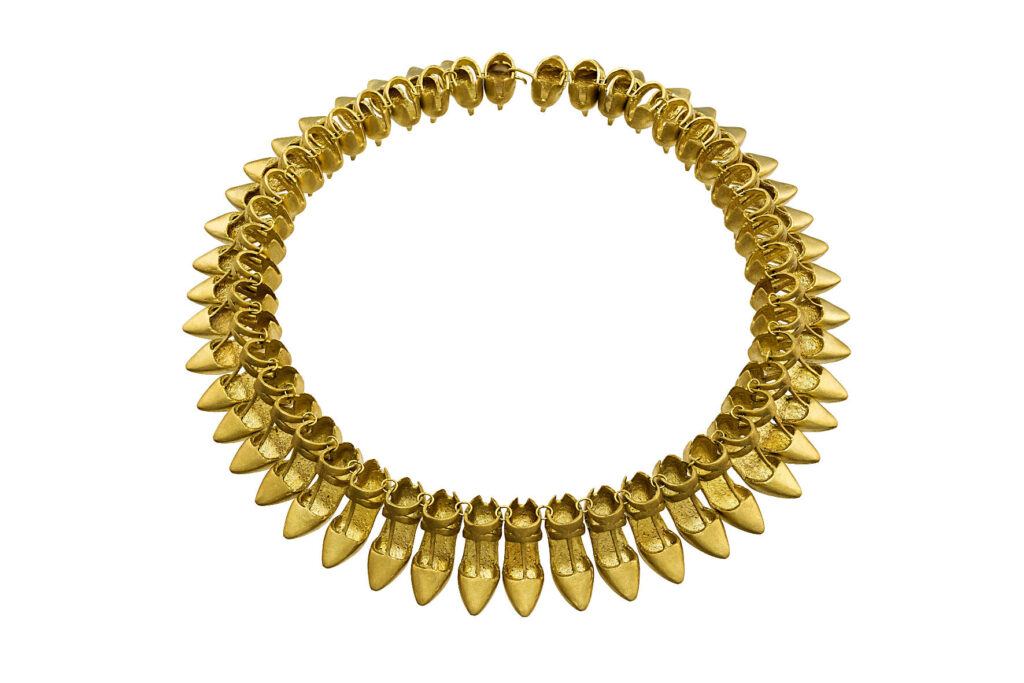 Jenny Antonopoulou
Stand Out
Necklace
Brass
How important is it to be approved and accepted? What is the "reward" for doing the "right" thing and what is the "punishment" otherwise? To what extent do Stereotypes affect our decisions and the way we live our lives? I created medals to symbolize the ultimate reward for female stereotypes.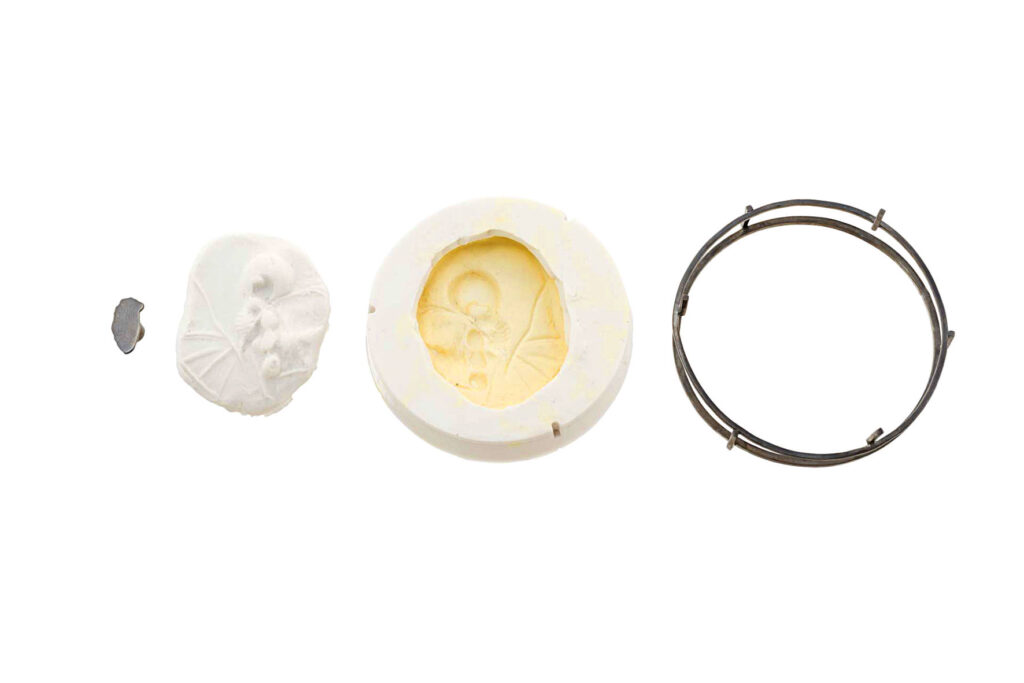 Lily Preve
The Game
Brooch
Silicon, Black Plated Brass
A Found object is always an occasion for research and experimentation. Trying to give a new identity to the object but without interfering with its character, i used it as a matrix (mold). I created multiple prints – fragments on a single surface. Each one of them a jewel, a gesture of revelation and exposition of lost moments, hidden images and visible emotions
Lito Zafeiropoulou
Co+existence
Pendant
Handmade Thai Paper, Brass
The jewelry pieces I create are harmoniously composed of a balance of male and female archetypal, primitive, repetitive, simple concave and convex forms. Tearing paper and layering it expresses my emotional and intuitive being whereas the use of metal symmetrical geometric elements carries the power of sacred geometry and the Threefold Nature of God.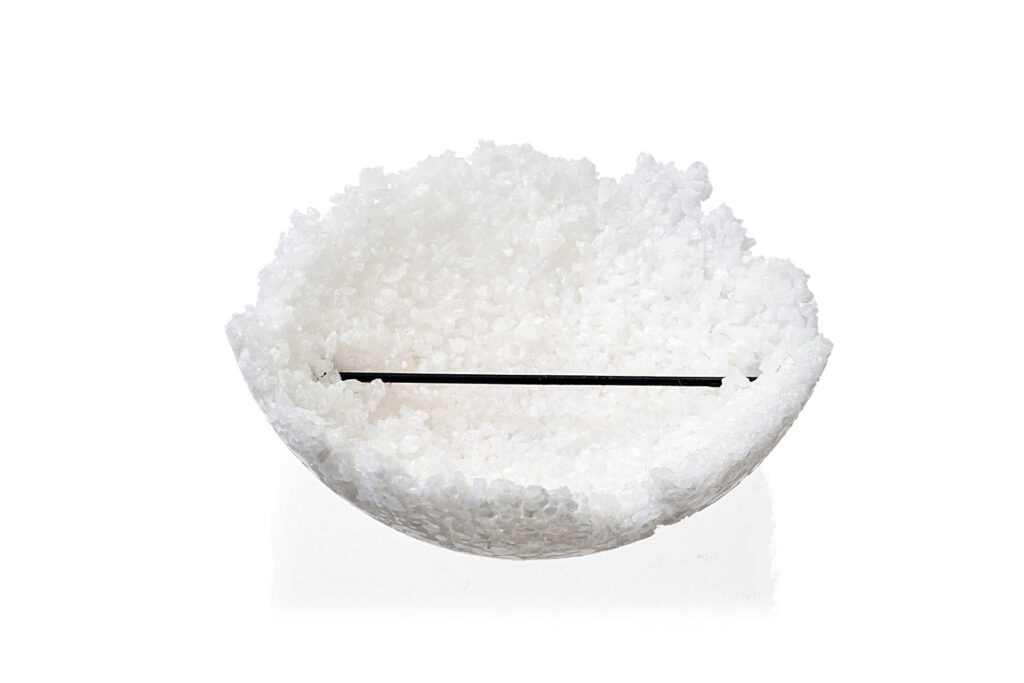 Sevi Mavrelou
Untitled
Brooch
Resin, Salt, Silver, Rubber
Through experimentation. I'm trying to understand and tamped salt as a material that test my patience. I feel through this process that I am in a road race. I run after my raw material that is one step ahead challenging and inviting me to new adventures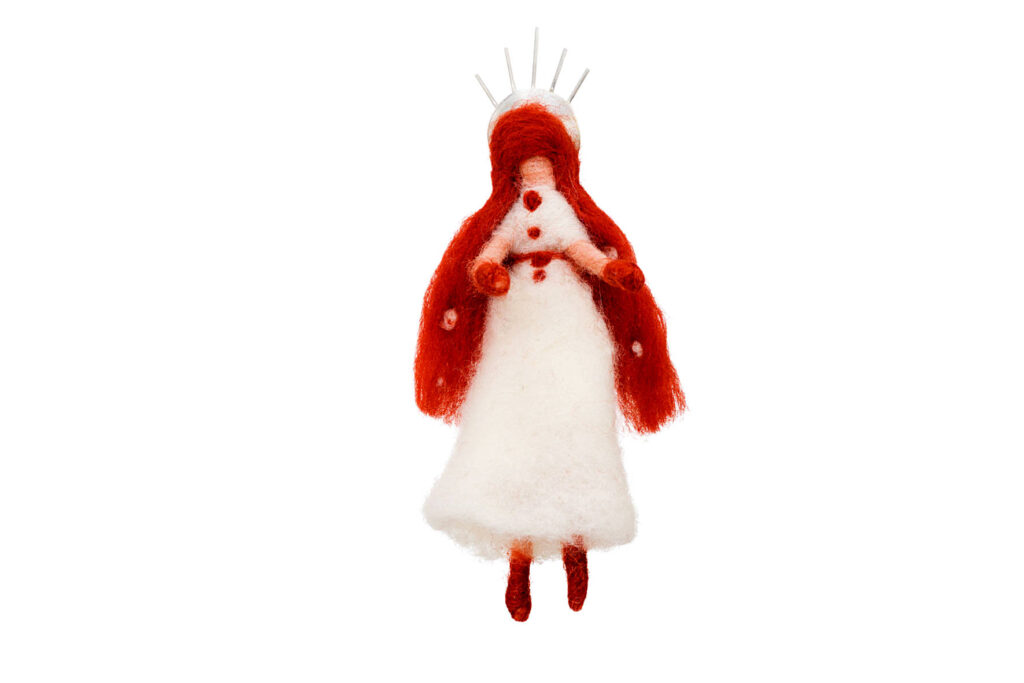 Varvara Vidalaki
The Crowned
Brooch
Felt, silver
Physical and existential fear and pain accompanies human life. In my everyday life as a doctor, I share these feelings with my patients. I create "amulets", differing from the traditional standards. I chose wool that is warm, light and colourful. I use the "Felt technique", ceremonially weaving in wishes of health, love and happiness. I create figurines that seem to emerge from classical fairy tales. Magical creatures that offer silver gifts, to those who wear them. Symbols of protection, power and authority guiding them on their new life path.
---
Anamma studio was founded in 2011 by Anastasia Kandaraki. It is a Contemporary Jewelry Studio addressed to both amateurs and professionals; a space dedicated to creativity, expression, and exchange of knowledge and ideas.
Traditional techniques and approaches are combined with contemporary ones in order to develop a new perspective around jewelry as an expressive means of art.
Jewelry at anamma studio is treated as "portable" art. It is related to the body on a conceptual and physical level by using it as inspiration, space, and an entity that conveys values and expresses messages.
The Studio organizes thematic seminars on materials and techniques as well as intensive theoretical/conceptual and technical courses, with distinguished instructors and guest artists from Greece and abroad.
For amateurs, anamma studio functions as a starting point in the multidimensional world of jewelry, by providing them the opportunity to create their own portfolio. For jewelry professionals, it serves as a space of further evolution, revamp, exploration, and discovery.
Participating Students: Aggeliki Madi / Dimitra Papamerkouri / Eugenia Feroussi  / Ioanna Dimitrakopoulos / Jenny Antonopoulou / Lily Preve / Lito Zafeiropoulou / Sevi Mavrelou / Varvara Vidalaki
---