Marietta Kontogianni Interviews Charon Kransen
Charon Kransen
---
Charon Kransen is a trained jeweler, a former professor, an art jewelry collector, a contemporary jewelry dealer, founder of Charon Kransen Arts in New York City, one of the most important galleries in the field, an educator, a lecturer, and a jewelry book dealer. Needless to say, that because of his different professional roles and his lifelong experience in the field, Charon Kransen has deep knowledge in all aspects of contemporary jewelry art. Furthermore, he was a juror at Talente and Schmuckszene in Munich for many years and he was a member of the jury of Athens Jewelry Week 2018. So, what a better chance for me to get to know him through an interview and to find out more about jewelry curating, collecting, and reading.
You have been involved in the jewelry field since 1969 as a jeweler and a jewelry professor and in 1993 you established your gallery in New York. That means you have lifelong experience on and a deep knowledge of the contemporary jewelry world. How this world was back then and how is it now? What changes have been made through the years?
In most places, contemporary jewelry was a totally new concept. New materials, new ways of wearing jewelry, a much broader definition of adornment in general.
The German word for jewelry is Schmuck which comes from the verb "schmuecken" which means to adorn and in my opinion is a much more accurate definition of the field. Jewelry then could be very easily recognized from its place of origin. Clearly German (technical), clearly Dutch (minimal), clearly American (narrative), clearly Russian (constructivism) etc. etc…
Now everything is global, whether it comes from Australia, Finland, Chile etc. and the differences have mostly disappeared. There is more of a global language. There are exceptions though in places where somehow a specific approach/aesthetic still is visible like in Israel, Estonia, just to mention a few.
Back then there were few possibilities for contemporary jewelry artists. Almost no galleries specializing in this particular direction, hardly any publications, very few exhibitions, and very small clientele who would be interested to wear this kind of work. No competitions, hardly any platforms to show this work, and very few museum collections, even though that began to change slowly in the seventies.
Your gallery promotes "innovative" and "exciting" "contemporary jewelry". What makes a jewelry piece innovative and exciting and what is your definition of contemporary jewelry?
Contemporary jewelry is just a word, actually sounds kind of contrived. Jewelry of today. So many terms are used nowadays: modern jewelry, art jewelry, studio jewelry, wearable sculpture, jewelry art, conceptual jewelry, craft jewelry, etc. etc.
After almost 50 years in the field, one might become jaded, like, "oh seen that already" or "that has been done already" or just copies of copies of copies……
Innovative eludes to innovation in concept, innovation in the use of materials and techniques, innovation in personal expression, innovation in wearability etc. etc.
The surprise; the "wow" factor, the expression of just such a great creative mind, which gives you shivers.
You are curator, art-dealer, and agent for over 150 international contemporary jewelers (mostly non-Americans) in North-America at various galleries and art fairs. 
What elements must a jeweler's work have in order to be worthy of being represented by your gallery?
I don't relate to the word "worthy".
In order to be represented by CKA of course has to do with the quality of the work but also whether this work fits into the aesthetic of the whole collection. Not all work would be a right "fit". An artist with his/her work needs to feel at home with a gallery and with the work of colleagues. The work should be unique and bring an additional element to the collection. We look for a high level of personal expression in the work in general.
---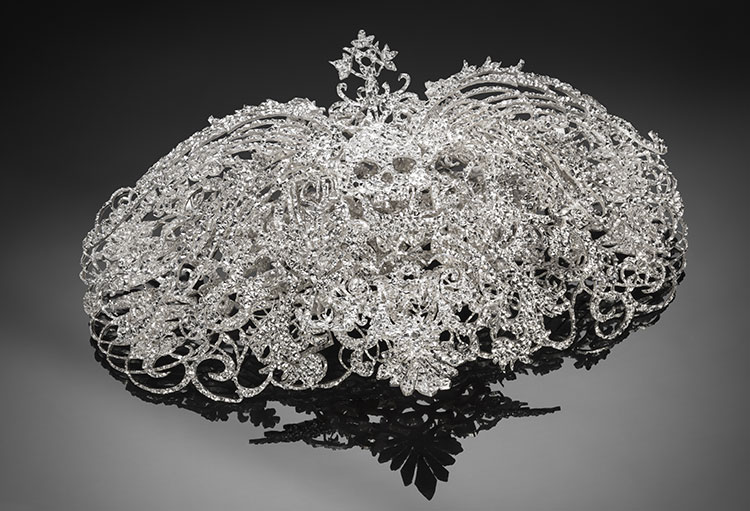 Fumiki Taguchi. Brooch, The Expression of White, 2013. Silver, coated with rhodium. Photo by Tomas Svab
---
You have juried Talente and Schmuckszene in Munich for many years. You were also a member of the jury of AJW 2018. What are your criteria as a juror? Have these criteria changed through the years? Do they change according to the different demands of each event?
I used to think being a juror was an honor. Maybe it is, but what comes to mind more is that it is very, very hard work. There are so many aspects in judging that need to be taken into account: is the work of good quality, not just technically but also conceptually? Is the work related to the theme of the exhibition/competition as far as there is a criterion? Is the work innovative? Does the work contribute to the overall view of the exhibition/competition/event? I always keep the overall quality in mind.
I judge at titre personnel…I can only look with my eyes and observe, and experience based on what I have encountered in my field over the many years.
You are a trained jeweler, graduated from Bezalel Academy in Jerusalem and the Hochchule für Gestaltung in Pforzheim, Germany and at Juhls Kautokeino Norway.  What role does the knowledge you have on jewelry techniques play in your criteria for selecting an artist's work?
Technique like materials used, serve…they serve the idea/concept, so we should not over-emphasize the importance of technique. Of course, a work needs to be well made and not fall apart immediately. The execution of a work should be balanced with the idea.
Do you still make jewelry yourself?
Unfortunately, not… maybe in the future again…
---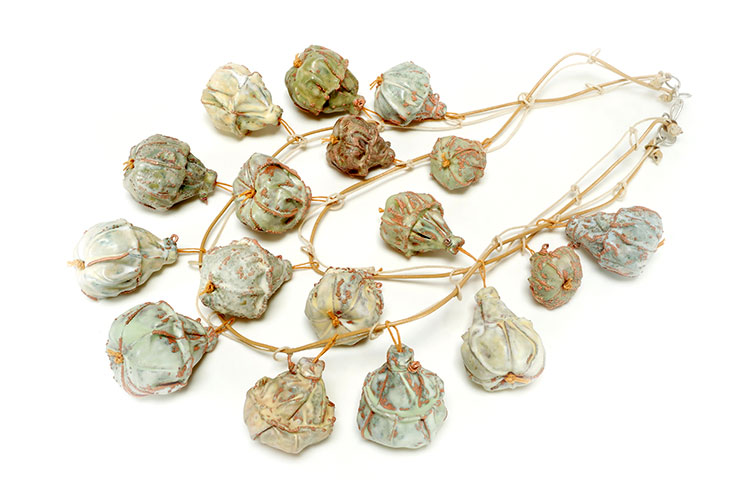 Deborah Lozier. Necklace. Promise #3, 2018. Enamel on electroformed copper mesh, waxed cotton string, leather cord, waxed linen. Photo by Deborah Lozier.
---
How people react to the contemporary jewelry shown by your gallery in the art fairs you participate? Do they have the knowledge to understand what it is? Are they willing to buy, or they just look? What questions do they usually ask you about the pieces on show? Is there an interesting story with a client you would like to share?
What we hear mostly is how "refreshing", "colorful", "innovative" the work looks. Most people know the traditional jewelry field; they recognize it and it is accessible.
This work enlightens them and at the same time confuses them. Many people just don't understand it, because they cannot think outside the box.
Once I sold a very expensive necklace to a very proper woman. Money was not an issue. She wore expensive traditional jewelry. She saw the necklace and fell in love. When she told me that she never looks at contemporary jewelry, I told her that this pattern was changed just now. She blushed but left happy, wearing a beautiful necklace. Her husband in a wheelchair rolled his eyes…
What advice would you give someone who wants to start a contemporary jewelry collection?
Read, research, educate yourself and develop a vision as to what and why you want to collect.
In your opinion what need does collecting fulfill?
Very different for different people: show-off, investment, name collecting, status.
For me, educating yourself, stretching your brain, leaving your comfort zone, love, passion…
---
Liv Blavarp. Necklace. Amazonas. Wood. Photo by Liv Blavarp
---
Which are the artists that a collector should look for right now?
What are the 6 jewelers' names of older times and the 6 of recent years a contemporary jewelry collection should have?  
Then: Pavan, Cepka, Jünger, Francoise van den Bosch, Hiramatsu, Tone Vigeland.
Now:  Liv Blavarp, Philip Sajet, Stefano Marchetti, Fumiki Tagushi, Iris Bodemer, Daniel Kruger.
Are you a jewelry collector yourself?
Yes.
A lot of artists are telling me that they usually pay more money than they gain from selling their jewelry. They pay to show their works in galleries. They pay to participate in fairs. They pay to travel to show their works abroad….. But, most of the time they don't have enough income and they need to do other jobs for living. Why is this happening and what artists should do to sell their works and to rely on earning incomes of what they make?
There is a lot of dis-connect between galleries and artists. Most artists have absolutely no idea whatsoever what the costs are a gallery incurs when putting up an exhibition or present themselves at an art fair. Those costs are obscene I can tell you…
I don't think an artist should pay to show their work in a gallery, neither do I think they should pay to show at an art fair. To travel to places abroad to show their work, is part of the job and they are responsible themselves to do that. It is what falls under "investing" in one's own professional practice.
Every artist has made a choice to be a professional artist and not take a 9 to 5 job with a regular paycheck. Every choice comes with challenges and consequences. If you cannot live like that you probably should make a different choice. We all had jobs on the side…
On the other hand, the prices of the contemporary jewelry are extremely high. Why someone would want to pay so much money for a piece of jewelry? What makes a piece of jewelry to be worthy of such money?  Is jewelry a good art investment? 
One cannot compare the market (and prices) of traditional, commercial, mass- produced jewelry with the market of contemporary jewelry. These are two completely different markets and they hardly have anything in common. Contemporary jewelry prices are not high, compared to anything in the art or applied art field (ceramic, glass, wood, textile etc.). Not sure whether the field of contemporary jewelry is ready for a secondary market quite yet.
---
Stefano Marchetti. Necklace. Gold, Oxidized Silver, Stainless steel. Photo by Stefano Marchetti
---
Also, what I often hear by curators, is that there should be a purpose, a reason why behind making contemporary art jewelry. Is that true? And if so, why is this so important?
In the sixties we wanted to do away with jewelry made for the financial elite, status etc. No more expensive materials, no precious metal, no gems etc. Jewelry should be accessible to everybody. Multiples were developed, cheaper materials were used, but did we really understand what the purpose of this "new" jewelry really was? Not really and it took time to understand what the essence of this new work was about.
Contemporary jewelry is an art form. It uses this medium/format to tell as in all art.
Whatever label we use or whether it is design, craft or art, is really irrelevant.
It educates, it confronts, it communicates, it confuses, it transforms…
Apart from being a gallerist you are also a lecturer, and you travel around the world doing seminars. For the past 20 years you have been lecturing on contemporary jewelry and giving master-classes to students and professionals in the USA, Europe, Australia, Asia and South America.Your seminar is entitled "Develop your own script: An inner journey attempting to bring to light all pre-constructed beliefs and fears that block the evolvement of individual Makers both personally and professionally". Could you please name the most important pre-constructed belief and the biggest fear that block the evolvement of individual Makers?
Old internalized messages/voices of parents, family, environment, all telling you for many reasons, that you have no talent and that being an artist in not a real job and will never make money and that it is only good as a hobby. They limit, they paralyze, and they destroy your dreams and your passion. Voices will always be there, but we can decide not to listen to them anymore.
Your gallery doesn't show only jewelry but books as well. I think you are the only gallerist to do this. The jewelry book and catalogs lovers swear by you! You have been the official bookseller of the SNAG (Society of North American Goldsmiths) for the past 25 years and in 2015 your book collection won the Best of Manhattan Award Program in the Books category.  How did you become a book/catalog dealer in the first place?
From when I started to work in this field and also started to teach, I always collected publications in our field even though mostly they were thin catalogs/brochures at the time. Over time we have seen the publications of so many more and substantial titles.
I never planned to be a bookseller, but it just happened kind of organically. People saw the books and publications I collected and wanted them and that is how it started. Now it has just mushroomed, and I believe I carry about 2000 titles. It helps educate people and myself and know what goes on in my field globally.
---
Mirjam Hiller. Brooch, Tufton. Stainless steel, Powder coating. Photo by Mirjam Hiller
---
I am the founder of Jewelry books club on Facebook. Would you please tell me which 10 jewelry books would you suggest someone beginner in the field to read to get inspired from?  
New Brooches.
New Necklaces.
New Rings.
Jewelbook – Int. Annual of Contemporary Jewel Art.
Nsaio6 – New Jewelry from Idar Oberstein.
Contemporary Jewellers Interviews.
The Workbench Guide to Jewelry Techniques.
Schmuck 2018.
Unexpected Pleasures.
Also please give me a list of the 10 best-seller books of 2017-2018 and a list of the 10 best-seller books of the last decade.
10 best-seller books of 2017-2018:
Contemporary Jewelry in Perspective.
Thinking Jewelry: on the way towards a theory of jewelry.
On jewelry.
Marjorie Schick Wearable Scuplture.
Professional Jewelry Making Revere.
10 Years of Precious Thoughts, voice of the artists.
Nsaio6 – New Jewelry from Idar Oberstein.
Castle in the Air, Ohuloss.
Daniel Kruger between nature and artifice.
Murmuring Hanna Hedman.
10 best-seller books of the last decade:
New Necklaces.
New Rings.
To the Point, pin mechanisms and brooch back design.
Calder Jewelry.
Behind the Brooch, A closer look at back, catches and pin stems.
Clasps 4000 years in Jewelry.
Contemporary Jewelry in Perspective.
Thinking Jewelry.
On Jewelry.
Jewelbook–Int. Annual of Contemporary Jewel Art.
---
Monica Cecchi. Necklace. Oro Sweet Oro. Photo by Federico Cavicchioli
---
About the Charon Kransen
Charon kransen, a Contemporary Jewelry dealer and Jury member at Athens Jewelry Week 2018, is a trained jeweler, graduated from Bezalel Academy in Jerusalem and the Hochchule für Gestaltung in Pforzheim, Germany. When he moved back to Holland after graduating, he became head of the Jewelry Department at the Art College Amersfoort and a couple of years' later head of the Enamel Department at the Academy of Fine Arts in Utrecht. He worked part-time for Gallery Ra and he was president of the Organization of Dutch Jewelry Designers for a number of years. When he moved to New York in 1989 he became contemporary jewelry dealer and in 1993 he established Charon Kransen Arts, in order to promote exciting jewelry from around the world in North America. The work is presented annually at various American art fairs, such as SOFA New York, SOFA Chicago, SOFA Santa Fe and Art Palm Beach and the Int. Art and Design Fair in New York and at select galleries specializing in contemporary crafts and design.
As a private dealer, Charon Kransen Arts welcomes individuals, collectors and museums to the Upper West Side of Manhattan. The collection consists of jewelry, hollowware and accessories by both renowned and emerging artists, whose work may be found in museum and private collections around the world.
The educational branch of Charon Kransen Arts includes lectures and seminars throughout the USA, Europe, Australia and South America and the distribution of books and exhibition catalogs on all aspects of jewelry, metal and design.
---
About Marietta Kontogianni
Marietta Kontogianni is a Greek journalist based in Athens, founder of JEWELRYbox Magazine on Facebook. She has been working as a journalist for more than 20 years collaborating with newspapers, magazines and TV channels.
Meanwhile, she has been creating fashion beaded jewelry herself.
When the newspaper she was working for since 1995 bankrupted, she decided to found the bilingual (Greek-English) FB JEWELRYbox Magazine to keep on working as a journalist, to network with the people involved in the jewelry world and to express her passion for jewelry.
Up to now, she has been interviewing the prominent and emerging Greek and international artists who show their work in Athens and abroad.
Furthermore, her JEWELRYbox Magazine has been a media sponsor of both Greek jewelry platforms: A Jewel Made in Greece and Athens Jewelry Week.
Her future plan is to have a website built to promote the Greek jewelry history.e-mail: [email protected]
Facebook: www.facebook.com/JEWELRYbox.magazine
Website and blog on Wix: kontogiannimar.wixsite.com/profile
Linkedin: www.linkedin.com/in/mariettakontogianni/
Pinterest: gr.pinterest.com/jewelryboxmagazine/
---