Marietta Kontogianni Interviews Jorge Manilla
Jorge Manilla
---
Jorge Manilla is so much more than an internationally renowned artist that he can't be described in just a few lines. But if I had to use only one sentence to talk about him, I would say that he is an artist of a multilayered personality that it is reflected on his work, a profound thinker, and a man who puts love and devotion in everything he does; and the truth is he does a lot of things! He creates, he organizes exhibitions to show his work, he teaches, he does workshops, he gives lectures, he curates, he judges, he reads, he writes, he expands his education…! But above all, he is the father of a lovely daughter and a father figure to his students of the Metal and Art Jewellery Department of the Oslo National Academy of the Arts. Furthermore, he has been in contact with the Greek contemporary jewelry scene since 2014 and has been collaborating with Athens Jewelry Week since the first edition of the event in 2016.
When I first met him, I immediately felt connected to his synthetic way of thinking and his meticulous way of working, though I was shocked by his unconventional work itself. This long but intriguing conversation with him gave me the chance to unfold some of the layers of his character and to learn more about the artist but also about the man behind the art.
---
Making art makes me completely happy.
---
Jorge Manilla was the first contemporary jewelry artist I met in my life, and the lecture he gave at Popeye Loves Olive art space in Athens, Greece, back in 2015 was the first lecture I ever attended in this field. Actually, up until then, I had no idea what contemporary jewelry was. What I remember is that on the one side I was impressed by Jorge Manilla's appealing way of talking and explaining all about his work but on the other side I was trying hard to understand what this work had to do with jewelry and why so many people were gathering in the gallery to admire black things called jewelry that I would never wear!
The truth is that Manilla's work, as well defined by the artist himself, is not about aesthetics, but it is about the human being and its physical and emotional aspects. Some of the topics he works with are religion-faith, death-life, feelings-emotions and madness-sanity, topics that are often difficult for people since they don't like to talk about the most natural things in life. For me, jewelry means more than just creating something with aesthetic value…Making jewelry I can find a lot of possibilities to research and try to understand life, Jorge Manilla explains. Above all what he is interested in is creating pieces that make people think.
Since then, I have attended the two lectures Jorge Manilla gave in Athens in the previous editions of Athens Jewelry Week and I have always been fascinated by the calm of his voice and his thought-provoking, mindful speech that comes from his heart.
And though I never got used to his art, what has changed in the way I perceive it, is that now I can trace behind each of Manilla's pieces, his meticulous work, his everyday struggles with his feelings, the distillation of his life philosophy, yet well-hidden underneath layers of burned wood or creased black leather. And finally, I've found some silver rings depicting Jesus Christ on the cross, painstakingly carved by his hands, the ones he showed at AJW 2018 with the Oslo Academy at the In Da House exhibition, that I would love to wear.
Jorge Manilla, the prominent artist, the professor, the teacher, the curator, collaborated once again this year with Athens Jewelry Week as a member of the jury; as an artist and professor of the first-year master's program of Alchimia Contemporary Jewelry School of Florence showing his work together with the other professors of the school at the Benaki Museum 138 Pireos St. ; as the head professor of the Oslo National Academy of the Arts (KHIO), coordinating the In Da House project -the first project between teachers and students of the Metal and Art Jewellery Department of KHIO- that was presented at Coyoacan in Athens; as a speaker, organizing a roundtable called Between me, the visual and materials at the Benaki Museum 138 Pireos St.
After 3 years of meeting up with Jorge Manilla at the Athens Jewelry Week events, I felt it was about time to interview him and talk about death, life, fear, love and of course…jewelry.
---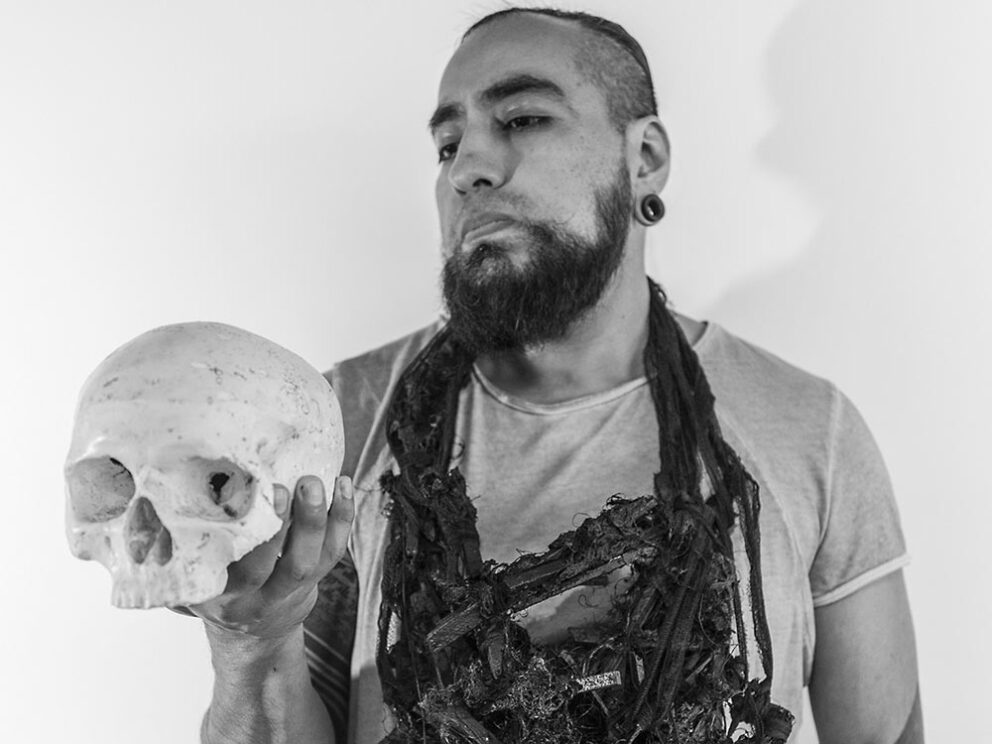 The artist photographed by Alexandra Colmenares Cossio.
---
SCULLS, BONES AND OTHER STORIES
---
I would like to start this interview with your memento mori portrait that was uploaded on your Academy profile on the Oslo National Academy of Arts (KHIO) website a few months ago. In this photo, you are holding a human skull that you are staring at.
The first thing that came to my mind is that you are Mexican and in Mexico is celebrated the Dia De Muertos where skulls play a significant role. How do Mexican religion and traditions inspire your work?
Well, thanks a lot, Marietta for this interview and for the very interesting questions. To answer your question, I have to say that religion has been a red thread not only in my career but in several situations in my life too.
Religious beliefs have profoundly influenced Mexico in the past. The ancient Mexican tribes were comparable in complexity to the Egyptian or Assyrian beliefs, due to their rituals, their religious aspects and their knowledge of astronomy and mathematics.
Today in Mexico religion (which is mainly Catholicism) affects national holidays and festivities, music, literature, drama, and architecture in many parts of the country. But in the past few years, Mexico turned out to be very dangerous and we keep on living knowing that every day could be our last day, thus it is important to believe there is something out there that is protecting us.
I use all these elements as inspirations or complement of my work, therefore I can tell you there is a clear and direct influence by religion.
But I am interested as well in a central theme of the early Aztec religion in Mexico involved viewing life and death as an integral part of human existence. Aztec ruling caste demanded human tribute from vanquished tribes. Aztec religious officials regularly killed many of these slaves in public religious blood rituals.  And they frequently sacrificed enemy prisoners of war in this way, too, offering their blood as a gift to the Aztec gods.
It is this idea, this relationship between the human body and religion, that has been occupying me for a long time. And I guess this idea it is very visible in my work.
My second thought was what were you feeling and thinking about when holding this scull?
Oh! I can tell you that this picture was unexpected, my photographer asked me to take this skull and try to communicate with it, so several thoughts were in my mind at that moment; nostalgia for everything that happened in my life or maybe even for what has not happened yet.
Whenever I see or use something related to death I always realize how ephemeral we are and how much we waste our time in banal things.
But in general, I feel peace when I face the idea of death.
---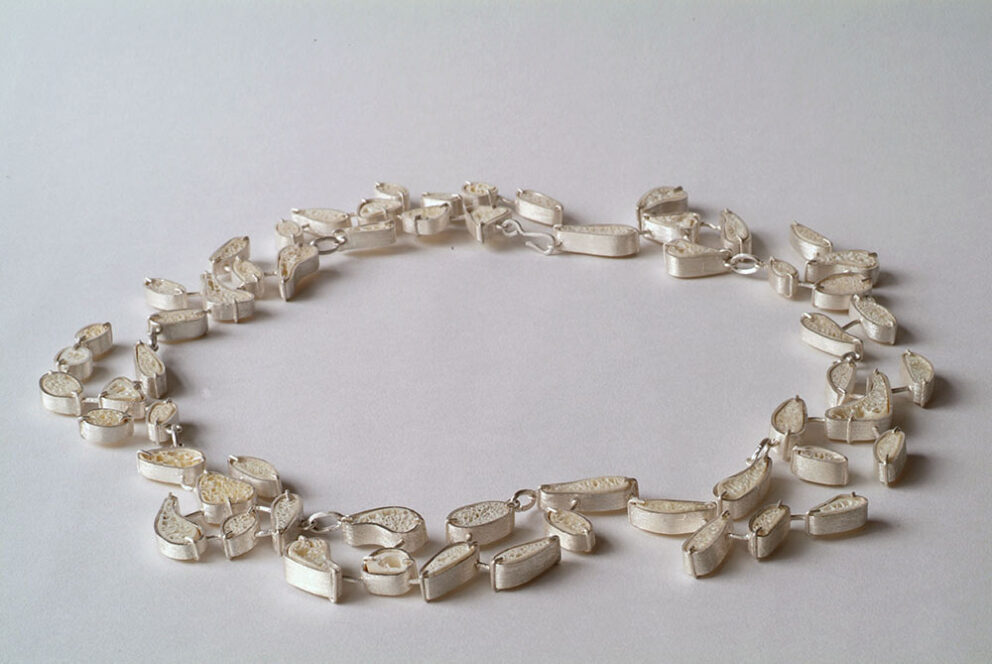 Benditas Penitencias. Necklace. Human bones, porcelain, cotton thread, silver, Photo by Tom Lagaest.
---
Does it feel the same when you touch and work with human bones that I know you have used in the past to make some of your jewelry pieces?
I guess for people (viewers) it feels different than for me because I generally use natural materials and I believe in the transformation and expression of them.
And I believe that materials somehow have a certain period of life and get a power and energy in the time of transformation. Though I think that what is necessary, is not the material that feels different when I use it in my work, the references and thoughts that the material entails are.
I found those bones in the garbage of a cemetery in Mexico City where my brother rests and of course when I saw them I directly thought who was this person? why he/she ended here? What about the family and feelings?
Using those ribs very carefully my pieces turned out to be very sensitive attractive and almost fragile pieces and during the process and in the results for me it was a kind of homage to this person and to the other people in the same situation.
---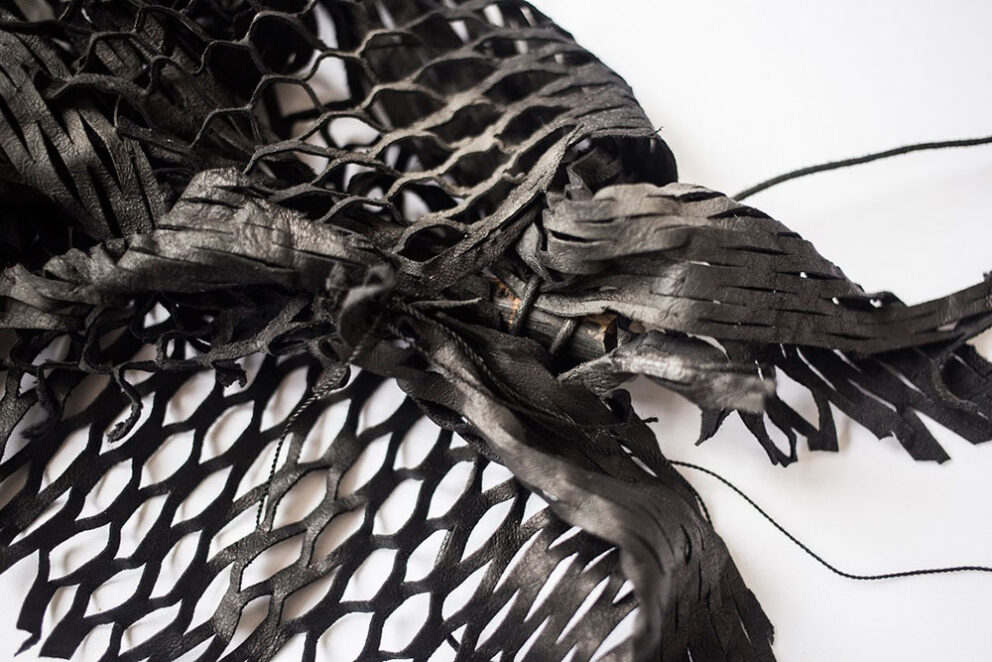 Abruptions. Learning to fly again.(detail) Photo by Alexandra Colmenares Cossio.
---
You also use a lot of leather. How does this material inspire you? Are leather and bones a depiction of the human body?
Well, at first glance it looks like that and maybe in the beginning, when I used these materials for the first time, it was so. But after working for several years with these materials it is not so literary the reference anymore.
Now, I learned to create layers of meanings in my work. I like to express with materials human conditions, human feelings, human situations.
It is like an approach to Eros ('ερως-love) and Thanatos (θάνατος- death) through materials.
With leather, I learned how to create surfaces that make you think what is going on inside. So, this is my reference to the emotions and feelings and this is not always visible in the first layer.
When you look at my work you see something in the surface but if you look at the shape and the details, in general, you see there is something going on inside that speaks about the fragility of the human conditions.
---
OF DEATH, FEAR, AND LOVE
---
You said before that in general, you feel peace when you face the idea of death. Is working with skulls and bones your way of accepting death?
No, of course not. I accepted death many years ago when I started to lose some close people in my life and because of my devotion to the holy death. For me, it is more like a very personal expression and the way I like to deal with the materials. Very often I don't choose the materials I let myself be led by the materials.
I am always open to finding new materials wherever I travel. And when I find something new, I take it home and there, out of the original context, I start to talk and experiment with it, to transform it and express myself.
What does death mean to you? Are you afraid to die?  Have you ever thought how do you want to die?
Not I'm not afraid to die, not at all. I guess this is a cliché but as human beings the only sure thing we have is death.
I guess I am more afraid of all the things I won't do before I die. Very often people ask me how I do everything, exhibit, make new work, teach, be a father, etc. well this is my way to feel myself alive. I use, and I enjoy every minute of my life with the good and the bad aspects.
I never thought about how I want to die but I thought when I die I want to be happy with what I would have done with my life so far.
And making art makes me completely happy. So, I know I will die making art but how I will die I don't know.
What is the biggest fear in your life and how do you face it?
Well, I told you in the previous question that I am afraid not to have enough time to do everything I want to do at the moment I want. And maybe my second fear is to stop dreaming about things I want to do in my life.
My best weapon to face that is to work on my art and never stop.
Does the notion of death make you feel life in full? Would you like to share a moment that made you felt alive lately?
Yes, of course, knowing I will die in a certain moment and how fragile we can be as human beings I feel very alive every day and I enjoy every moment, even when the moments are not comfortable at all. I take it as a learning process and always as a new challenge.
There are many moments but last summer I went to Argentina, Brazil, and Mexico and to hear and feel the gratitude of the people for the shared time and for what they learned, that was a moment that made me feel alive. But it was not easy because having those pleasant moments makes me feel very aware that I don't want to do and spend my time in a lot of banal things. This does not mean I don't want to enjoy my life but I do not want to waste my time in unnecessary worries.
---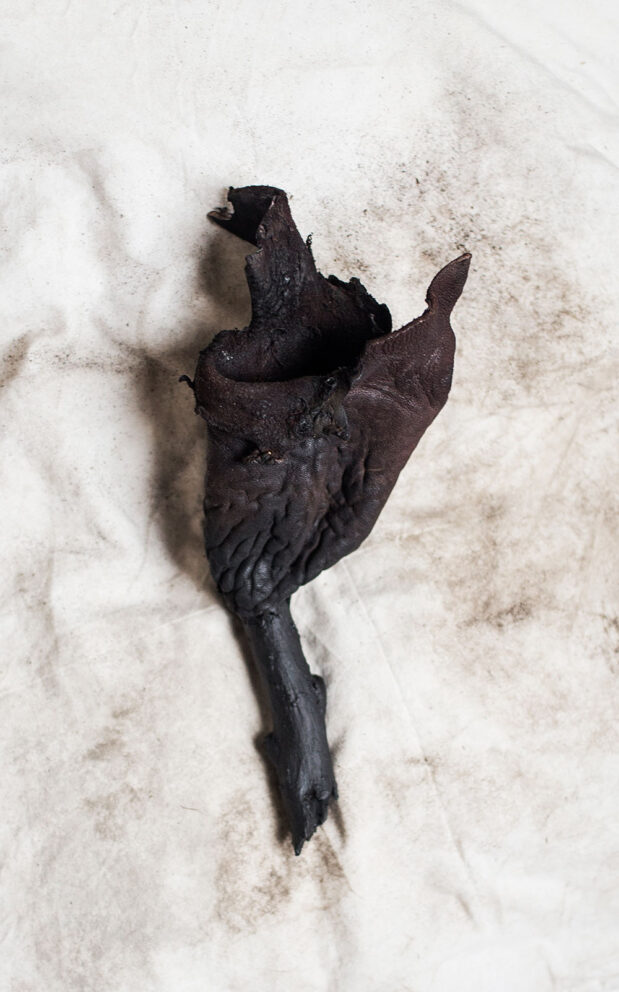 Not me but you lost me. Brooch. Wood, leather, steel. Photo by Alexandra Colmenares Cossio.
---
Do you believe in the afterlife?
I don't know if I can call it an afterlife, but I believe in the transformation and the separation of the corporal material (like the flesh) with the spiritual.
If you could be reincarnated and to start a new life in a different physical body what this body would be?
The same I have now.
When you were interviewed by the Greek artist Georgia Gremouti for her Perfold blog one of the questions she asked you was: According to Greek myths, the souls of the dead had to pay a coin to Charos (Χάρος) to cross the river of Acherontas and go to the other side. If you were to pay that coin, what would it be?
And you replied: It would be one of my works, representing love.
Why would you choose a piece representing love? Is love a feeling that makes human beings forget death?
First, I want to say that I gave this answer because I believe what you give is what you get and love for me is the most precious feeling you can offer at least in my case. And it is so precious because it is like a treasure you give to the one who deserves it.
But about the second question, I do not believe love makes human being forget the death. On the contrary, I guess people feel dead very often because of love. This is related to different situations.
But in my case, I learned to share the love as my most precious thing.
What role does love play in your life? Does it make you feel alive? Are you in love now?
Those are too personal questions. Love is very important to me. But, maybe, you must define what kind of love are you talking about because this is too general.
I love my daughter, I love my work and I work every day, I love people around me, I love to be alive so, yes, it makes me feel alive.
And, yes, I am in love now.
---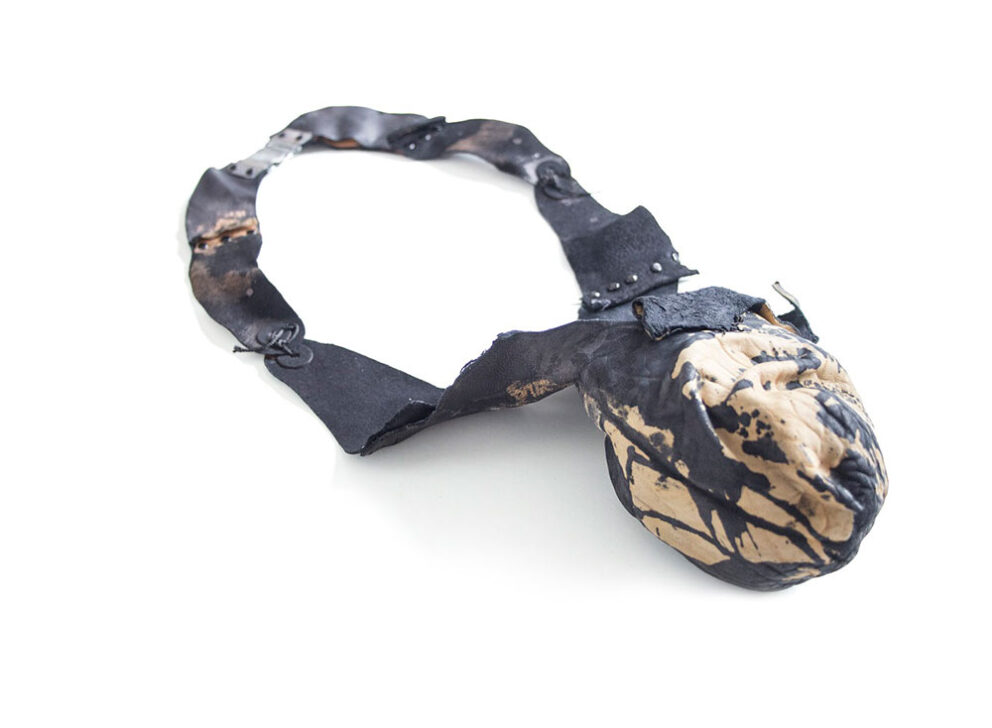 Abruptions. Necklace. Leather, steel, zinc, Photo by Alexandra Colmenares Cossio.
---
FATHERHOOD AND TEACHERHOOD
---
You have a 14 years old daughter who makes you feel alive.
How does she inspire you? How does she react to your work? Does she like it or not? Do you take into consideration her opinion? Does she want to become a jewelry artist in the future?
She is 15 years now and of course she makes me feel alive, she has been my driving force and motivation to move forward every day for 15 years.
She inspires me in her way to look at life and the meaning of having a responsibility to take care for her is a big inspiration to keep going on.
She is so close to me that her opinion It has been very influential in my life. We talk a lot, we discuss everything, and we explain our point of views and this is the most beautiful thing because I learn a lot from her. And she can be very critical and honest when we talk about my work and very often she is right in her perceptions.
However, she doesn't want to be a jewelry artist. She appreciates and respects the art and the art jewelry field a lot, but she wants to become a psychologist, this is very clear for her so far. This year she moves to a new school to start to get more focus in that direction.
What fatherhood has taught you so far and what would you advise the fathers to be?
Being a father changed my life completely. I never expected that feeling but I love it. I love the responsibilities, the necessary changes that you need to do to be a father, although sometimes are not easy. But as a father, and especially single father like me, you are constantly in change, learning new things every day.
A lot of people say that being a father or a mother is a sacrifice, but I see this in a different way, I see it as a barter in exchange for an invaluable teaching.
---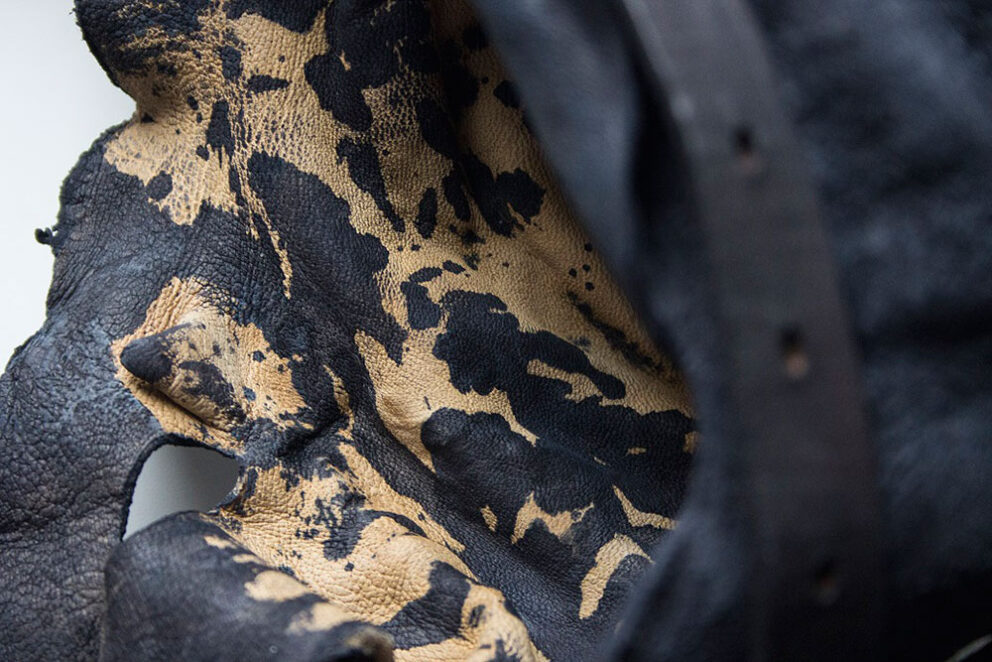 Abruptions. (detail) Photo by Alexandra Colmenares Cossio.
---
You are not only a father to your daughter about also a father-figure to your students.
You are the new professor at the Metal and Art Jewellery department at KHIO, you are responsible for the first-year master's program at the Alchimia School of Contemporary Jewellery in Florence, and you teach and give workshops/ lectures at different art and design universities around the world.
What is your role and your main responsibility as a professor towards your students?
My students are everything to me. I feel very responsible for them. Since I am only a kind of tool of the institutions, my big concern is the students that trust us and get enrolled in the institution, or in another case in my workshops, by investing everything, time, money, energy, their dreams. And I guess when you decide to have a role as an educator you have to be very aware this is all about find and give a lot of possibilities to get out the best of each student.
In a personal way, and not as a group, I guess when people talk about my teaching skills as a professor or a tutor you can hear them saying very often that I go very deep in the needs of each person. And this means a lot of work for me, but it's completely worth it.
As the head professor of the Metal and Art jewelry department, the responsibilities are not only the students but the whole vision of the department including professors, adjunct professors, teachers, technicians and myself.
So my life is a constant exchange of information and knowledge about our field. Every day I am involved with people around the world guiding them on something and this is a big responsibility.
What do you enjoy the most about teaching?
Every single aspect. When you are passionate for teaching you can enjoy a lot of elements like sharing information, all the new visions, interpretations, and ways to look at things. I believe knowledge is like a fruit, you have to share it and let people enjoy as well because if you do not share it, it will rot.
Since I am teaching and tutoring all around the world I feel like a bridge of information between different countries and this is amazing.
What is the most important thing teaching has taught you so far?
That education is something serious. As a teacher you must be very aware that the educational time and process is not about you, but about the students.
There is a constant change in education art so in my eyes, it is important that as an educator you must be updated about your field to offer all kind of possibilities to the students.
I have learned a lot about respecting each other, and especially for me, it is very clear that the old system of hierarchies does not make sense and that a change in education is urgently needed.
I learned as well that if you are an educator and an artist you have to be very strong to separate the moments when you are the artist from the moments when you are the teacher. Because there is a time for everything, but you have to see the right moment.
Is teaching another way of feeling alive?
Not at all for me. It is just a part of my life and makes me feel alive as all the rest of my activities. What makes me feel alive is the contact with the people. Our profession is a kind of lonely, but this is not the case when you are an educator because of the environment you are working in.
---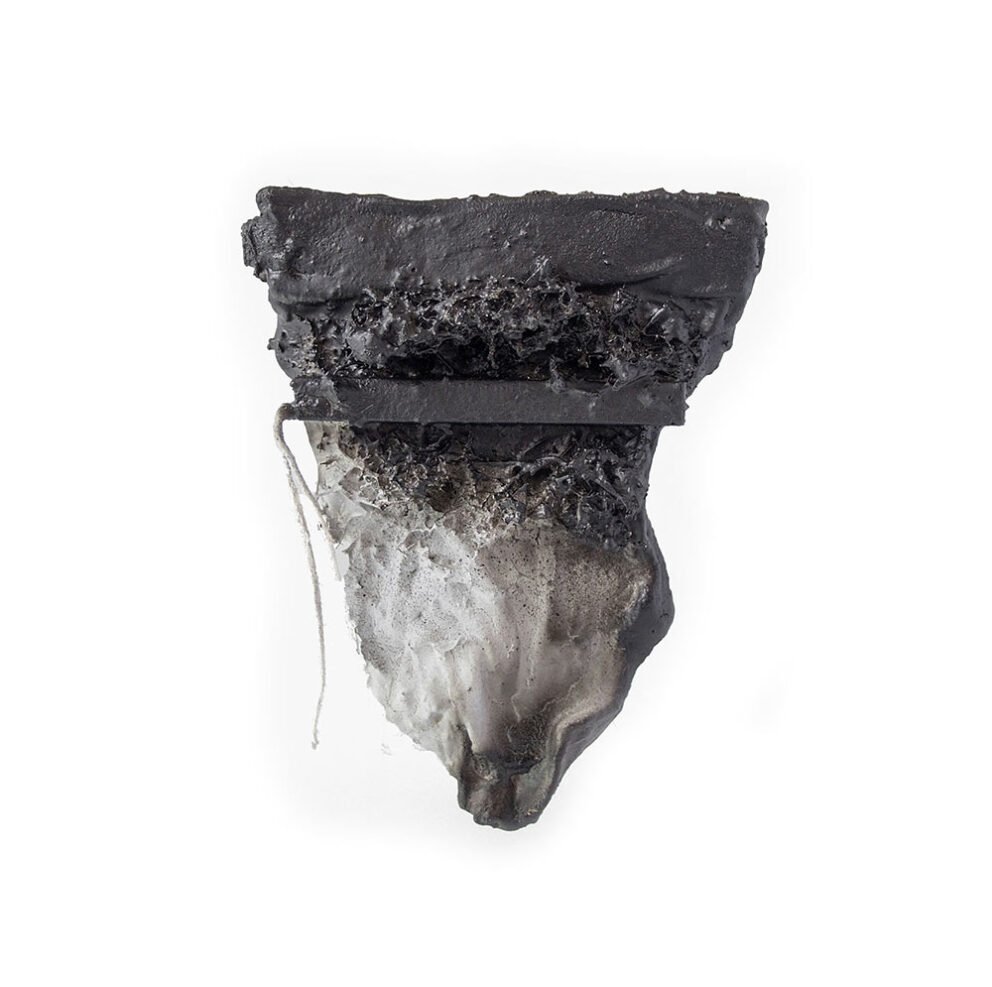 Never ending dream. Brooch. Polymer gypsum, wood, steel, messing. The piece was shown at the central exhibition of Athens Jewelry Week 2018 with Alchimia Contemporary Jewelry School. Photo by Alexandra Colmenares Cossio.
---
THE GREEK CONTEMPORARY JEWELRY SCENE AND THE ATHENS JEWELRY WEEK
---
As a teacher, you have worked a lot with Greek contemporary jewelers as well, not only through your workshops in Athens the previous years but also through curating exhibitions with them.
What is your opinion about the Greek contemporary jewelry field?
Well, I am in contact with the Greek contemporary jewelry scene since 2014 I guess. Since then I have seen a lot of changes, but especially I saw a core of people extremely motivated and taking contemporary jewelry art very seriously.
This is why, after being invited by Erato Kouloubi in 2015 to do a seminar, to give a lecture and to organize an exhibition about my work, I Immediately fell in love with the promising Greek jewelry scene and decided to support it by doing everything that was in my possibilities, because this kind of initiatives and engagement is what our field needs.
What changes do you believe there should be done for the Greek contemporary jewelry field to achieve a very high level?
Especially a lot of decision, a big investment like time and a lot of courage. But I guess the team of Anticlastics, founders of the Athens Jewellery Week, are doing very well in achieving a very high level. They are doing a great Job and I am very glad to have every year my small contribution with the invitation of them as one of the jurors.
I have to say they are creating a very interesting and complex platform for the contemporary jewelry field in Greece, but I believe they need much more the support of the local artists because this can only be good for everybody.
What was your impression about the Athens Jewelry Week 2018 compared to the previous two editions?
This year Athens Jewelry Week was much more consistent and solid in the organization and the selection of the works. I remember the first year it was too big, and it was difficult to make the selection.
In the first edition, I was the only juror of international acclaim coming from the contemporary art jewelry field and I helped the team of Anticlastics to make the selection of the participants of both the central and the off-AJW exhibitions and I took it very seriously.
I wrote a comment for each participant about their work. It was a lot of work because you have to be careful with the selection and the way you do the selection.
If you want a project with a certain quality, you must separate friendship and professionalism. And of course, this creates a lot of disappointments, but if you want to be professional you cannot always please people.
The first edition was a very successful one, but it was just a starting point and it was necessary to take a lot of points into consideration for the next editions. So, during the first Athens Jewellery Week I was walking around writing some observations for Anticlastics and after the closing, we met to talk and discuss their goals for the next editions and about the best way to improve the platform and to get a better result. This seemed to work because it was clear that Anticlastics put a lot of attention to the next edition and they were sharper and more assertive in the second one, not only in the selection of the works but also of the exhibitions and the exhibition spaces by booking the Benaki Museum 138 Pireos St. for the main show. And because they kept up the good work, the third edition was very professional and well organized.
As a result, the event managed this year to get the attention of the international jewelry scene and to reach more participants from different countries like Norway, United States, Belgium, Spain, Sweden, and Germany among others.
It is very visible that every year they take care of every single element to make the next edition much better than the previous one.
And this is the reason why from the beginning I believe a lot in this project, for the commitment of the Anticlastics team. And for the eagerness to learn from the Greek contemporary jewelry scene, as well.
You collaborate with Athens Jewelry Week as a professional jewelry artist and as a juror. What are your criteria for selecting the participant artists?
Well, as I already told you, in this kind of big projects you have to be very careful with the selection of the participant works because there is no way to see or choose the works based on personal taste, but only in a very objective way.
During the first edition I was very aware of this because, as I told you before in this interview, I was the only juror of international acclaim coming from the contemporary art jewelry field.  For the second and the third edition other professional artists have been invited to participate like Sofia Bjorkman, Tanel Venree, Lucia Massei, Maria Militsi, Charon Kransen, and other people as well – and I was very happy because in that case, you can be sure the selection is more democratic since we all give points and each of us has another perspective.
In my case I like to see the quality of the pieces, the use of the material regarding the object or the jewelry, and the impact related to the social-cultural and artistical aspects.
But to say that I have fixed criteria is difficult, because the level of Athens Jewelry Week is getting higher every year, and my criteria must be adapted. But, I have some elements I usually look for, like the realization of the piece and the quality of the process, and the use of the material in relation to the concept.
You organized an exhibition with the students and the teachers of the Oslo National Academy of the Arts. Would you please tell me what this exhibition was about?
The intention was to bring the work of the students and teachers out of Scandinavia and show to the world what we are doing there. I invited the professor's staff and asked them to suggest some names of students that they thought they had the commitment and quality work to be part of this exhibition. So, we made a kind of open call inside the Metal and Jewelry department and after receiving the proposals we selected the ones that met our criteria.
It was a very nice and interesting process where everyone took a little bit of responsibility. I got some funds, talked with Anticlastics, send my application and as a result, we made a very interesting show call IN DA HOUSE where teachers and students of Oslo met in a show.
This exhibition was a great experience and we are looking forward to having more of this. So, we are planning to apply again for the next Athens Jewelry Week, maybe under the same concept but with a completely different work.
---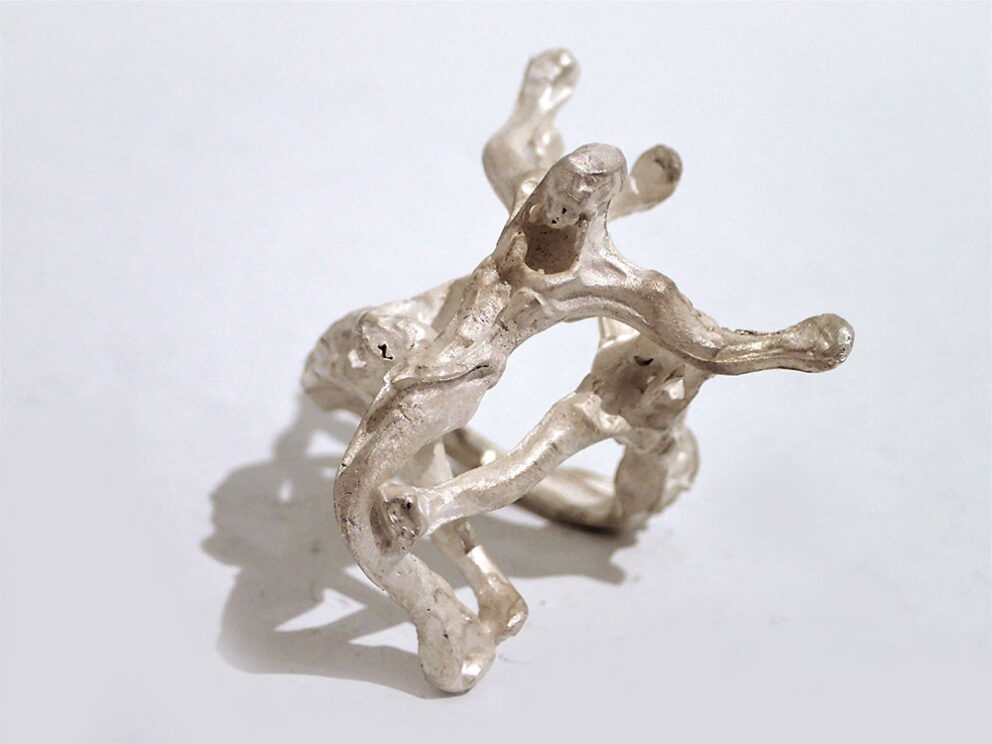 Canibalismo Christus. Ring. The piece was shown at the In Da House exhibition. Silver 950. Photo by Marietta Kontogianni.
---
At this exhibition, you showed a series of amazing silver rings called Canibalismo Christus. Could you please tell me what is the concept of this work?
This project expresses a complex vision that explores the rejection and attraction of the devotion and resemblance of man to the image of Christ in the search and needs to find an identity through the idea of the body as a means of passional, emotional and religious desire.
The transforming properties of fragmented Christs represent a definition in the movement of identity. Reconstructing the material (silver) mainly by four basic jewellery techniques modelling, casting, cutting and soldering, I try to reflect on the strength and power of the image of Christ, as well as the memory and historical references of violence exercised under religion from a Mexican cultural point of view as I have already explained to you before in this interview.
You also organized a roundtable at Athens Jewelry Week called Between me, the visual and materials. What this roundtable was about? Please explain in a few words for the people who didn't have the chance to attend it.
The intention of this roundtable was to open an honest discussion between the audience and me but this time not only as an artist but as an educator and a researcher as well.
I explained different aspects of my professional life in the different facets, the materiality of the work, the visual aspects and my professional life and I wanted to open the possibility to people to make questions and share their own experiences too.
I enjoyed a lot doing this and I have already a new idea for next Athens Jewellery Week.
---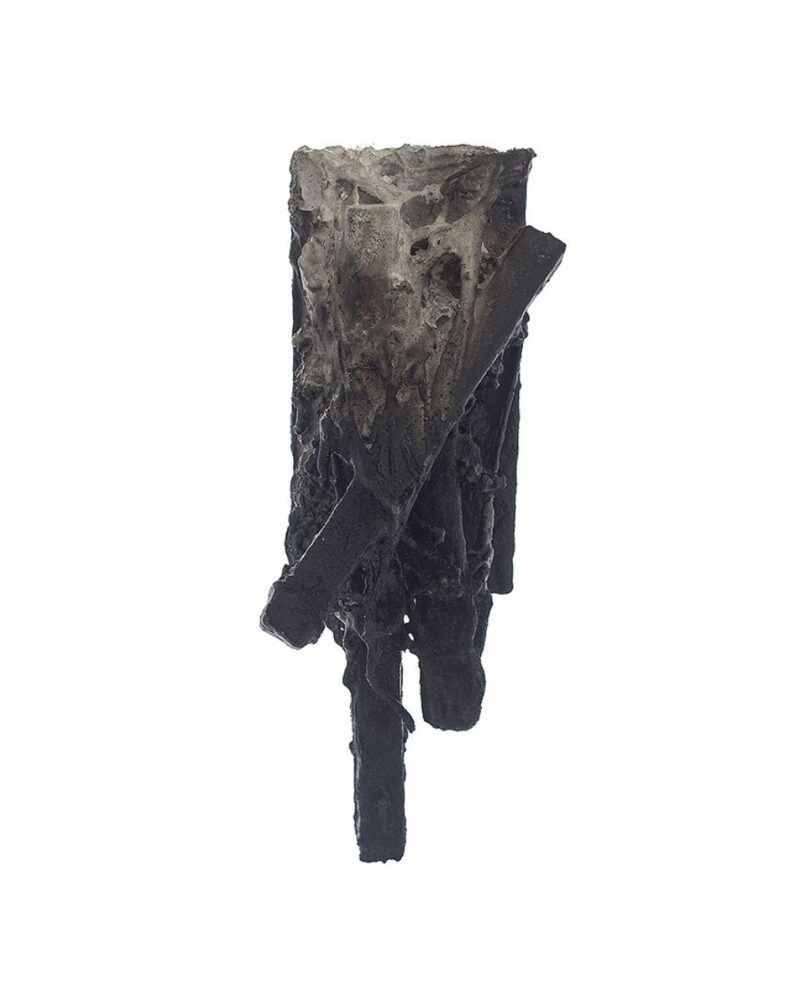 Now is my moment. Brooch, Polymer gypsum, wood, steel, messing, The piece was shown at the central exhibition of Athens Jewelry Week 2018 with Alchimia Contemporary Jewelry School, Photo by Alexandra Colmenares Cossio.
---
THE ETERNAL STUDENT AND THE IMMORTALITY
---
Though you are a professor, you have been working for many years towards building and expanding your education and you're still doing so. You are finishing your Ph.D. at the Royal Academy of Fine Arts in Antwerp under the title Other Bodies. What this work is about?
I will explain in some lines because it's a four years research project.
In my professional practicing as an artist, I was always looking for another approach to the body related to the crafts and the understanding and placing of my work in fine arts.
I was working very intensive for some years when I got the offer from the Royal Academy of Fine Arts in Antwerp to make my Ph.D.
It took me almost two years to be sure I wanted to start with this.  Of course, I wanted to bring my work at a better level in conceptualization and methodology and at that moment, I got the opportunity to do it at a Ph.D. level.
My research project investigates the understanding of the concept body related to the crafts, objects and fine arts. On one side, which is more related to the materiality, I investigate what does body mean in a process of creating by using, working with and reflecting on the body as solid, masa, volume, structure expression and joins. And on the other side, I investigate what does body mean in theory, what its social, religious and human aspects are.
For me was very important to leave an interesting contribution to the studio crafts practice.
Working in my studio, but on the same time giving workshops and lectures to get information to compare in theoretical levels, I wanted to create a personal development of the practical work connected with different methodologies based on cultural and social influences, most of which are based in reflections and experimentation as well.
My goal was to create a historical and autobiographical research material with the focus on body-related to the crafts objects.
My research was based in 3 platforms, practice, making personal work and giving workshops in different countries to get as much anthropological information as possible. And the last theoretical was reading books, writing my conclusions and taking part in discussions, lectures, and interviews.
The result is a body of work which shows a wide approach to contemporary jewelry with some strong theoretical fundament.
Researched ideas, my practical work, reflections, and my methodology have been explored and tested in exhibitions, publications, lectures teaching projects and tutorials at least in eight different countries.
During my research period, I made a huge body of practical work. Not only jewelry but I used also all kind of expressions because through my research I wanted to extend the boundaries of the traditional piece of jewelry.
Is acquiring knowledge a way to better understand the world we live in, the others and ourselves and accept the fact that one day we all going to die?
I think knowledge is just a small part to understand the world we live in, but of course, it helps a lot to understand it in a more critical way.
On the other hand, being an artist, creating things with your hands, your mind, your soul and knowing that your work will be there forever in museums and in private collections, is this a way to gain a short of immortality?
Well, I don't know If immortality is the main Idea, but in the first instance I want to emotionally touch people, I want to make them think, and very often they feel uncomfortable with the topics I bring up in my work. In some moments people told me they were still remembering a piece or a comment I have made in a lecture or one of the titles of my works. My titles are very important and very often it takes a long time to decide the right one and people like this a lot.
So, I think that if tomorrow I die, and people are still thinking about one of those pieces it will be nice because that would mean that I would have been transformed into my own pieces and this is what I am talking about.
Does this idea of immortality related to art, has anything to do with your decision to become an artist?
Never had the idea of immortality anything to do with my decision to become an artist.  My decision to become an artist was a natural need that in a certain moment grew up and this is something you have it or not. And since I became an artist in a very natural way, then there was no way back anymore. In my case, it was everything or nothing.
---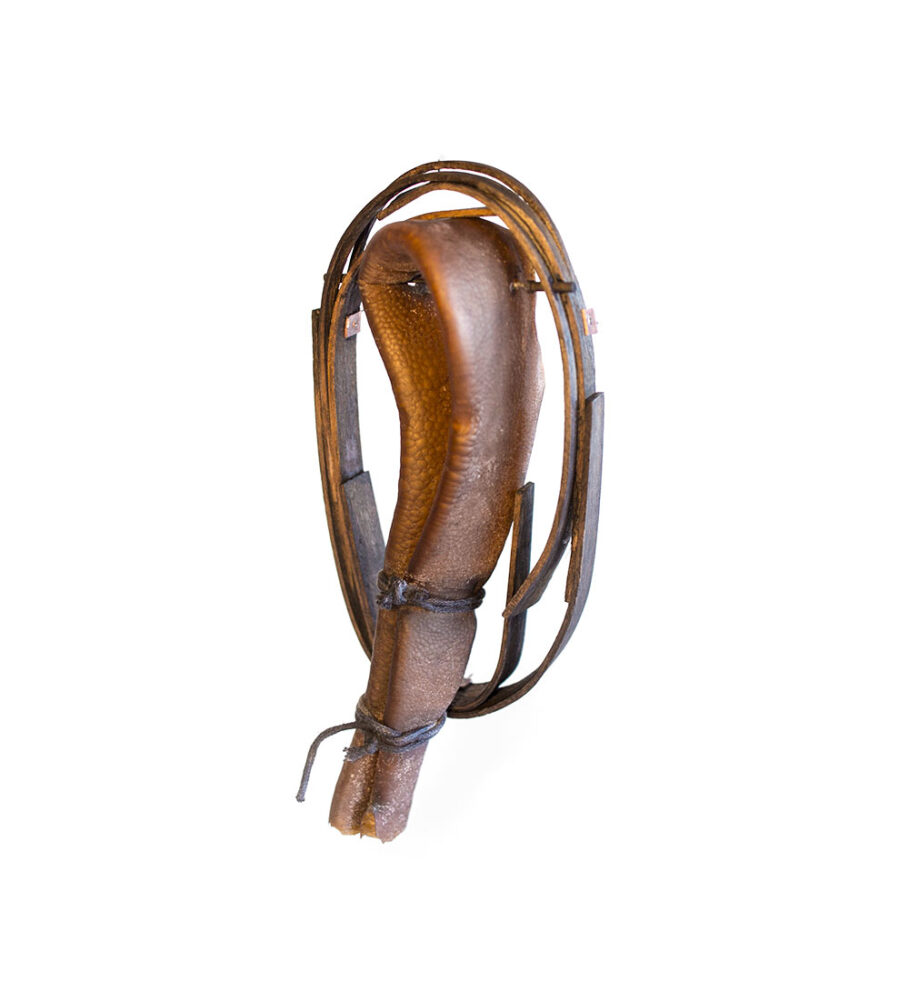 Comparison. Brooch. Wood, Durvillaea Antarctica (cochayuyo, a species of seaweed), copper, steel. Photo by Alexandra Colmenares Cossio. 
---
ART AND BOXING
---
In your Academy profile of Oslo National Academy of Arts it is written that Jorge Manilla thanks boxing, one of the national sports of Mexico, for achieving his artistic career. How has boxing helped you achieve your artistic career?
Oh yes, boxing is very important for me because in very difficult moments gave me the possibility to keep away from all kind of temptations of the street, you know what I mean, right?
Thanks to boxing I can say now that I walked on fire and I did not get burned.
When people hear something about boxing they usually think about the fight, knock down, punches, blood, but I can promise you, boxing is much more than that.
Psychological game, temperament, control, nerves, tactics and a lot of self-discipline are just some of the elements boxing has taught me so far.
In the first instance, it kept me away from danger and then helped me apply this mentality in my artistic career.
In both cases, you never know if you are going to lose or win but you know you have to risk everything because there is always the next round and if that round is lost there is always the next opportunity.
Stay calm and be explosive at the right moments, that is what my coach always told me. And this is what I am still applying in my life and in my work till now.
I am always hard working, giving everything and all the best of me, and if I fall, I get up and continue, if I fall again I get up, I breathe and continue.
And if I cannot do anymore, but I know what I want, I wait for the next opportunity. All this I use it now in a metaphorical way in my work.
This is why boxing means a lot to me.
I have read that you have worked really hard and faced a lot of difficulties to become an artist. How do you feel when people are telling you that your work is ugly and aggressive and that they don't like it, though you know that your work is not the easiest to approach? Are you feeling insulted or do you believe that a not so polite but honest reaction is better than a fake polite one or no reaction at all?
Look, nowadays people like to see digestible work and to make easy comments.
People look at my work and they see aggression or something ugly, but as I told you before in this interview, my work has much more layers than it seems at first glance.
My work is like me, very often I am being judged for my appearance, but when people discover what I do or what I am, and my own inner layer's, they are surprised.
Often in the world of contemporary jewelry people want to see beautiful things aesthetically speaking and there is nothing wrong with that, I accept it but it is not what I talk about, not what I want to express.
If I'm doing art jewelry I want to make honest work that moves emotions, that expresses feelings, that questions and that maybe even annoys people. Because when this happens I know that my work is fulfilling its objective and is generating an honest dialogue between people and my work.
I am not worried if people like my work or not, because if these were my expectations maybe we would have been talking about pretty or ugly and that is something totally different and I'm not interested in discussing this.
My work is not easy to approach if you have a lot of personal issues because it is a kind of mirror, it makes people identify what they don't like in themselves.
I could tell you hundreds of stories about my work, about people who have cried, people who have called me afterwards to tell me that they had nightmares, that my work brought them a lot of memories or people who have told me that my work healed them.
In other situations, they rejected it and then fell in love with it and bought it.
Doesn't It sound to you that these relationships between my work and people are like true human relationships?
You never know how they happen, or why they happen, you resist, you struggle, you look for answers and, in the end, it is up to you to decide how to continue with that. You take it or leave it.
Your latest work is called Recap. What do you recap through these pieces?
I made my RECAP Series in a moment of radical changes in my life, both personal and professional, and I had to make a very careful recap of everything that had happened of relevance to me so that I could reset and restart. This body of work is very important to me and it's not ready yet, I am still working on it.
---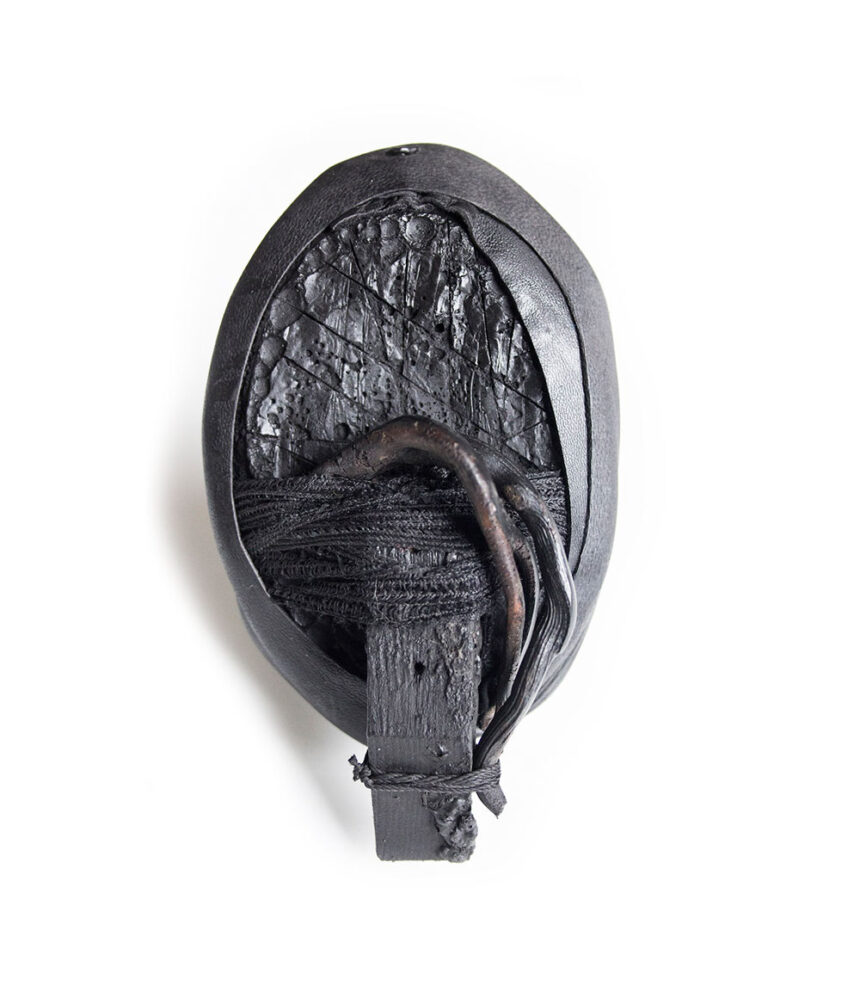 Abruptions. Taking you away from me. Brooch. Polymer gypsum, coral, wood, leather, silk, steel. Photo by Alexandra Colmenares Cossio.
---
CREATIVITY AND BLACK
---
How do you know when to stop when you make a piece of jewelry by burning the woods, ruining the metals or creasing the leather to give a not so appealing look to your jewelry?
I never know exactly when to stop. All is a matter of dialogue between me and the materials. I guide the materials but at the same time, I let myself be guided by them.
Every material is different and of course every moment and every situation. Even though I work with the same material, it will never be the same when I will stop. For me, each piece has a personality and if you look closely to my work, each area of the same piece has a different expression, it is all about that, about the expression.
What is your favorite tool to work with and what is your favorite part of the working process?
My hands are my favorite tool because I need to feel the materials, to know how to deal with them and bring them to the extreme and find the expression I want.
I love all the working process and in each series is different, so it is difficult to tell you, but I enjoy every step in my process even if it's difficult.
Your favorite color is black. I read that for you black is the end, but the end always implies a new beginning. When the light appears, black becomes white, the color of new beginnings. If tomorrow black disappears from the coloring palette and you must replace it with another color, what would that color be?
Then, I will take as many colors as possible and I will reinvent a new black.
---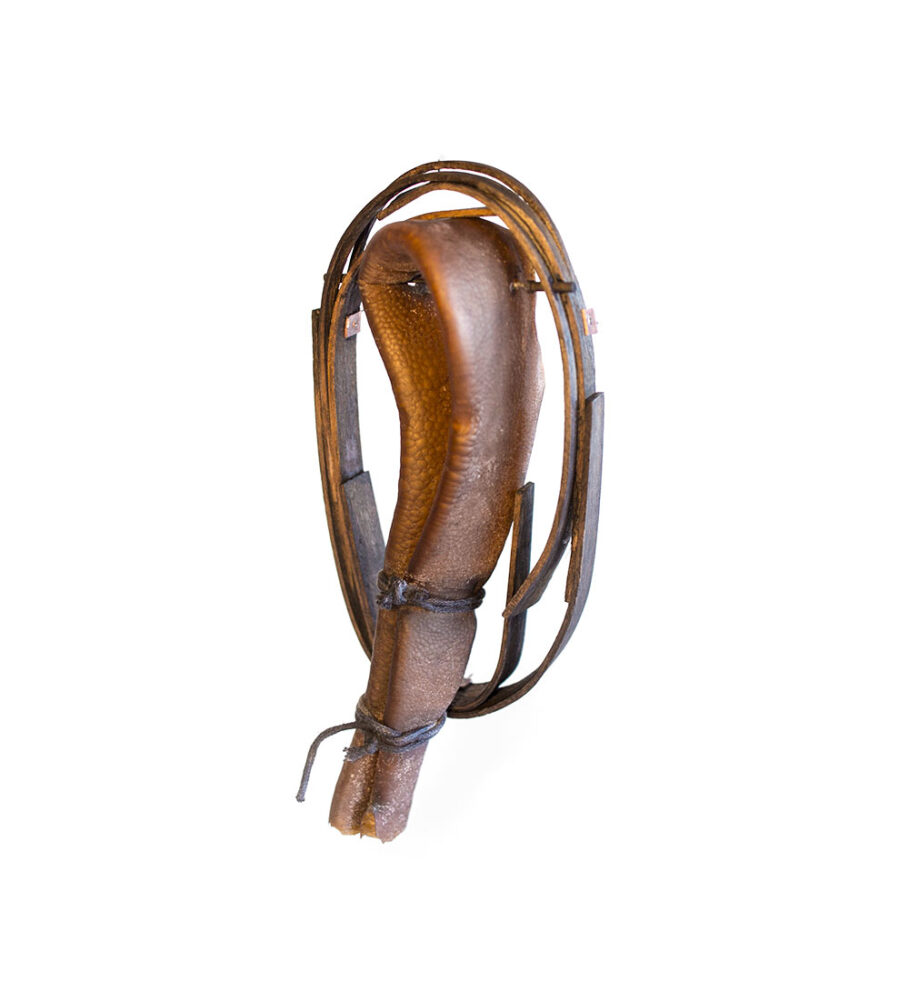 Doubt. Brooch. Wood, Durvillaea Antarctica (cochayuyo, a species of seaweed), copper, steel, Photo by Alexandra Colmenares Cossio.
---
Jorge Manilla (Mexico / Belgium), Athens Jewelry Week 2018 jury member, the son of a family of Mexican goldsmiths and engravers, studied visual arts at the Academy of San Carlos, in Mexico. He received a highly technical jewelry training at the Academy of Craft and Design from the Mexican Institute of Fine Arts.
In 2003 he earned a bachelor's degree in sculpture at The Royal Academy of Fine Arts in Ghent and one year later he enrolled at St Lucas University College of Art and Design where he got in 2006 a master's degree in Jewellery and Silversmithing.
Currently, Jorge Manilla is Head Professor at the Oslo National Academy of the Arts. Also, he is being invited to teach, to give lectures and to do workshops in different Schools in Europe and abroad.
Last year he concluded his research project (Ph.D.) at the Royal Academy of Fine Arts in Antwerp Belgium and now he is waiting for the dissertation date.
Since 2010 he is giving workshops around the world and his work has been shown in several exhibitions and is collected in the five continents.
By creating jewelry Jorge Manilla investigates his environment – religion, emotions, relationships and the meaning of life.  Over the last years, the artist has rediscovered his love for the black color. To the artist, black relates to something hidden, the secretive and the unknown, and as a result, it creates an air of mystery. It keeps things bottled up inside, hidden from the world. His dark forms and shapes create a barrier between the meanings of the objects and the outside world. Black implies self-control and discipline, independence and a strong will. It gives an impression of authority and power. For Manilla black is the end, but the end always implies a new beginning. When the light appears, black becomes white, the color of new beginnings.
---
About Marietta Kontogianni
Marietta Kontogianni is a Greek journalist based in Athens, founder of JEWELRYbox Magazine on Facebook. She has been working as a journalist for more than 20 years collaborating with newspapers, magazines and TV channels.
Meanwhile, she has been creating fashion beaded jewelry herself.
When the newspaper she was working for since 1995 bankrupted, she decided to found the bilingual (Greek-English) FB JEWELRYbox Magazine to keep on working as a journalist, to network with the people involved in the jewelry world and to express her passion for jewelry.
Up to now, she has been interviewing the prominent and emerging Greek and international artists who show their work in Athens and abroad.
Furthermore, her JEWELRYbox Magazine has been a media sponsor of both Greek jewelry platforms: A Jewel Made in Greece and Athens Jewelry Week.
Her future plan is to have a website built to promote the Greek jewelry history.
e-mail: [email protected]
Facebook: www.facebook.com/JEWELRYbox.magazine
Website and blog on Wix: kontogiannimar.wixsite.com/profile
Linkedin: www.linkedin.com/in/mariettakontogianni/
Pinterest: gr.pinterest.com/jewelryboxmagazine/
---