Marietta Kontogianni Interviews Lucia Massei
Lucia Massei
---
This year, 2018, marks the 20th anniversary of Alchimia Contemporary Jewellery School in Florence. Lucia Massei, the director, and teacher of Alchimia, is celebrating the school's emerald anniversary by showing in the central exhibition of Athens Jewelry Week 2018 at the Benaki Museum, the works of the team of professors of the school that she founded together with Doris Maninger in 1998. Back then Alchimia was the first contemporary jewelry school in Italy that through the years was meant to be one of the leading international institutions in the field.
To add more meaning to the celebration, Lucia Massei is also giving a lecture in Athens entitled Alchimia's Emerald Anniversary: 20 Years of Education, Art and Adornment.
This event gave me the chance to interview Lucia Massei who is not only the driving force behind Alchimia, but also a reclaimed jewelry artist, a master of pigments and gold leaf surfaces on metal, and…a lover of Greece.
Alchimia was founded in Florence in 1998 by you and your friend Doris Maninger. This year, 2018, is the school's 20th anniversary. What does that mean to you? How do you feel about it? 
I am very happy with the energy we created by working together along with students and teachers through all these years. We have grown together. Nothing would have been possible without having the same goals, without sharing, without working as a team. The atmosphere we have at school is warm, positive it is more of a family.
In 2008 you celebrated the school's 10th anniversary by organizing the Siamo Qui/We Are Here Event, collaborating with 12 of the world's best universities in an exhibition held at the Pagliere in Porta Romana, and at a parallel symposium, held in the Palazzo Vecchio, with speakers and participants from all over the world comparing different perspectives on the state of art and dynamic developments in the industry.  How do you plan to celebrate the 20th anniversary?
Organizing Siamo qui/ We were here, was a huge effort from the creative, economical, and practical point of view, for the small school we were ten years ago. We have had international visibility and great satisfaction: the goal was to make possible a verbal and visual dialogue between teachers and students from all over the world.
To be in Athens at the Benaki Museum it is a wonderful way to celebrate our 20th anniversary, sharing the work of our team of professors. We are very happy to be invited. We are planning to celebrate Alchimia's 25th anniversary in the future.
Why did you choose to name your school "Alchmia" in the first place?
"Alchimia", a name chosen for its symbolism and suggestions: the ancient discipline between science and metaphysics, from which to draw in order to transform the "worthless" in "highest quality" through creative impulse, manual skills, imagination, and enthusiasm.
---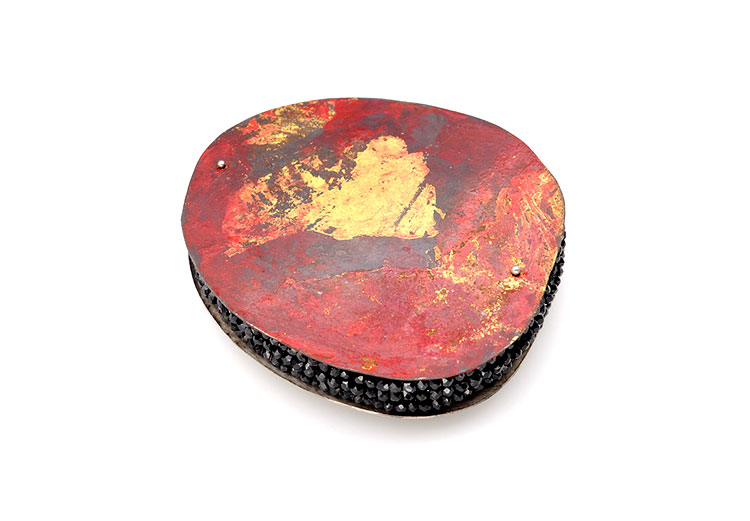 Lucia Massei. Mon Coeur. Brooch, 2009. Silver, iron, fine gold, black spinel, pigments. Photo by Federico Cavicchioli.
---
What is your strongest memory back in 1998, the year you founded Alchimia?
The enthusiasm of starting a project from zero literally from nothing. The challenge of opening the first contemporary jewelry school in Italy. That special kind of energy that you feel when you put all your potential and passion into something you believe in fully. It is hard to describe it in words.
What difficulties did you have to face all these years?
Managing a private school without having sponsors is always complicated. All the time that we have a project in mind we have to deal with what we would like to do and what we can do, it is always the game of finding the right balance with the best quality possible.
What are the elements that made Alchimia a leading international center for contemporary jewelry through the years? 
We have always been very active. Being an independent Institution means to be more efficient in making fast decisions. We got special attention in constantly evolving our teaching methods, we have an excellent selection of international teachers and a particular dedication and care for every student as an individual. The school attracts students from all over the world, who follow full academic courses or intensive modules, which creates a big diversity of cultural exchanges, always very interesting when interacting together.  A great number of international jewelry artists, art historians, gallery owners, and collectors have run courses and seminars over these years. The importance of providing the right atmosphere between teachers and students resulted in a very high quality, with peaks of excellence made evident by many international prized acknowledgements. All these factors have helped to create a network between countries that could connect former students who have established permanent working relationships together over the years.
---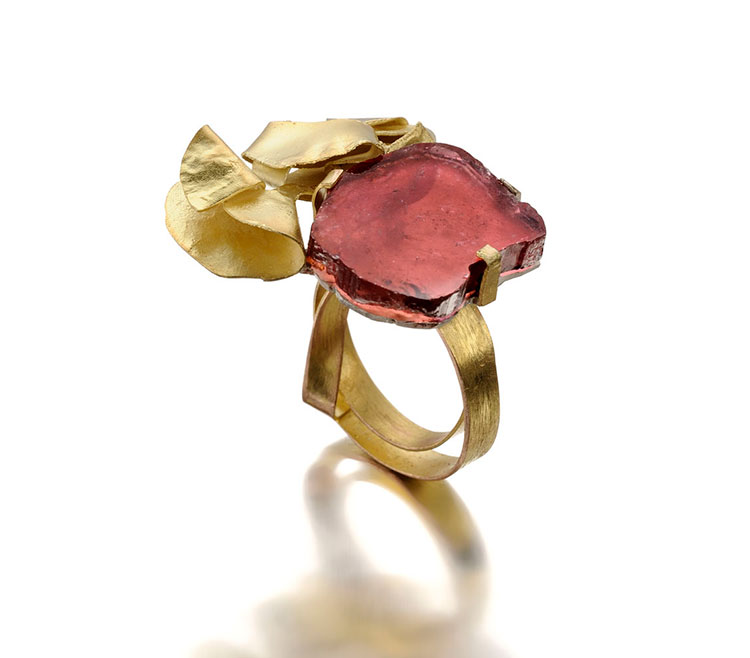 Lucia Massei. Madama Butterfly. Ring, 2010. 18kt yellow gold, silver, red tourmaline. Photo by Federico Cavicchioli.
---
I read on the school's website that you are considering establishing a department dedicated exclusively to innovation and research in the future. Could you tell me more about this plan and other future plans concerning the school as well?
At first, we thought so, but then, considering the birth of many Fab Labs all around, we opted for a different direction. We recently decided to open a new space exclusively dedicated to our Master's students in order to give them the ideal conditions to develop their skills and creativity. In this way, students can learn how to manage a studio, and to organize themselves in a self-managed space.
To become a prominent jeweller should one have knowledge not only in the jewelry techniques but also in other art disciplines and why? 
Alchimia's objective is to teach students to express their creativity through contemporary jewelry. To reach the point of understanding Contemporary jewellery one has to have the knowledge of what is happening and what has happened in other art disciplines in order to be able to criticize their work, put it in context, and to move on from the conventional.
As a teacher, what is the advice you give your students the first day they come to school and the last day they leave school?
To be curious about everything, to be passionate, not to be afraid of failures, and to embraces chances. I always insist on repeating to my students the necessity of never stop studying, reading, traveling, collaborating, work hard, and have a vision.
If you had to create one single piece of jewelry inspired by your school, what kind of jewelry would it be (necklace, brooch, bracelet, ring, other) and what kind of materials would you chose to make it of?
It would be a very long necklace because of the many elements linked together or a ring because it's symbolic reasons. Each material treated with care and love would be the right one.
When I think of your jewelry the things that come into my mind are:  gold leaf, colour pigments on metal, red and blue. Would you like to tell me more about these characteristic elements of your work?
To use pigments and colours it is what I inherited after studying jewellery for five years at high-school and painting at the Academy of Fine Arts in Florence. What I use for my pieces are metals, mainly gold and iron, and ancient artifacts recycled. In the last years I was recycling several materials as ancient Italian and Japanese silk, ancient military epaulettes, tin cans, French can-can shoelaces, seventeen century Spanish and English buttons, ancient glass lenses, rosary grains. I think there is poetry in the objects which have lost their original use, and I feel a sense of tenderness for those abandoned and forgotten materials which no longer have a meaning. I feel a kind of respect towards the people who, a long time ago, fabricated them with so much care. Those materials have their story, which I do not know, and which makes them so much more interesting than the new ones. I like to look for them, find them and use them, giving them a new life, another chance. My research has an inner ethical, but also poetic and sometimes ironic, sense.
Your jewelry has a poetic allure. What role does poetry and music play in your work? 
Listening to good music, reading, seeing art exhibitions, traveling, are all incentives to my inspiration.
---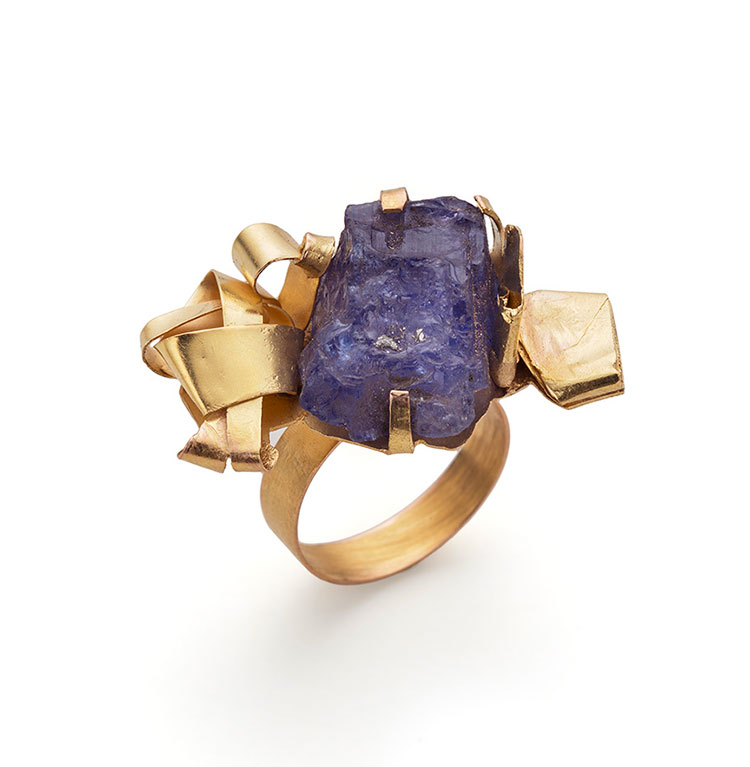 Lucia Massei. Oltre il Mare. Ring, 2017. Yellow gold, row sapphire. Photo by Federico Cavicchioli.
---
I make jewelry to be able to speak without using words. I read this quote of yours in the article written by Alina Carp back in 2013 in AUTOR website about your work. What do you want to tell the wearer or the viewer of your jewelry, what is the message you want to transmit through your work? 
As you mentioned: I prefer my jewelry pieces are talking instead of me. What they are communicating depends on what the viewers are perceiving. When I was studying painting at the Academy of Fine Arts my teacher of contemporary art history told me that when we are in front of something that is catching our attention, whatever we feel is correct and right. I don't want to give any specific message: the wearers can add what they feel, according to their personal background and sensitivity.
How have Florence and the Florentine Renaissance, inspired your work so far?
Living in one of the most beautiful cities in the world, an open-air museum, with a very high density of works of art, certainly has an influence on my aesthetic sense. Being born in Italy, belonging to a Mediterranean country had an impact on my character and my way of thinking and perceiving reality.
In the previous Athens Jewelry Week, apart from your work, visitors had the chance to see also works from your students. In this year's edition that Alchimia is invited you chose to show works from the teachers of the school. Why? Is this decision of yours related to the 20th anniversary of Alchimia? 
This is a way to show how we work at Alchimia from another perspective: through the work of teachers we can understand what are the inputs that our students receive.
---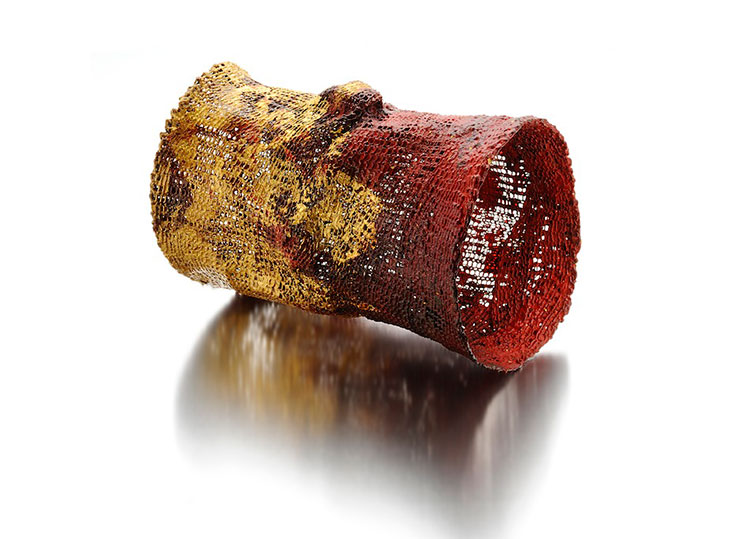 Lucia Massei. Rosso Consapevole. Bracelet, 2013. Copper, fine gold, pigments. Photo by Federico Cavicchioli.
---
Whose teachers' works will be on the show?
We will be showing the work of our main tutors and teachers in our academic programs; Lucy Sarneel, Evert Nijland, Sana Khalil, Jorge Manilla, David Clarke together with a selection from our fixed team of former students that have been the main part of our growth, working in Alchimia in diverse courses; Marzia Rossi, Daniela Boieri, Carla Movia, Elisa Deval, Yu-Chun Chen
Since last year you are a member of the jury of Athens Jewelry Week. What were your criteria for selecting the participant artists?
It is difficult to define what catches my attention, there are many aspects that I consider. First of all, a piece should be able to communicate something special to me, even if is something I cannot name. Then I look at the balance between aesthetics and concept, the research behind the material treatment, and the technical care in making.
You are visiting Greece quite often for workshops and lectures. What is your opinion about the Greek contemporary jewelry field and what would you advise the emerging artists who want to work in this field in Greece and abroad?
Contemporary jewelry is something still very new in Greece: to create a market, you need to have Universities where students can have a high education level related to this field and then galleries representing and promoting their work. There have been many interesting projects happening in recent years in Greece, which I consider great progress but still, as an artist and as an educator I think the most important advice I could give to young people is to study for a long time in order to become better and better from both the theoretical and the technical point of view.
---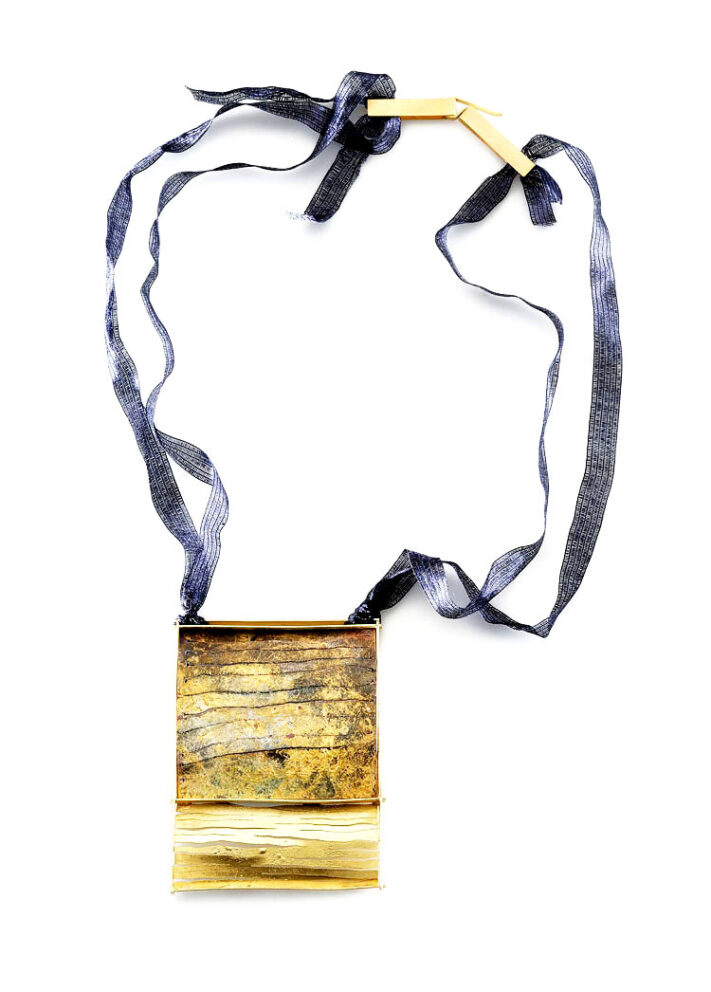 Lucia Massei. Africa, papà e io. Necklace,  2007. Shibuichi, yellow gold, fine gold, silk. Photo by Federico Cavicchioli.
---
You are also coming to Greece for vacations.  What is your favorite place to be in Greece?
Greece is not only a country to me, Greece is a state of mind, my soul home, the place where I feel connected to my roots.
My favorite places in Greece are Athens, Vergina, Pylos, Mycenae, Kardamili.
Could you recommend a good jewelry book you read lately, and you really enjoyed it?
The last catalog of Iris Bodemer.
---

Lucia Massei. Kyoto, Brooch, 2009. Silver, yellow gold, fine gold, pigments. Photo by: Federico Cavicchioli.
---
About Lucia Massei
Lucia Massei, Jewelry Artist & Director of Alchimia Contemporary Jewellery School, Jury at Athens Jewelry Week 2018, studied jewelry and painting at the Academy of Fine Arts in Florence and achieved meaningful experiences as a freelance designer in the fields of classic jewelry and fashion accessories. In 1998 she co-founded Alchimia.
As a jewelry artist, she had exhibited her work in galleries of contemporary art and museums in international contexts.
Believing in the potential of every individual, and the power of Art, Massei as acting director of Alchimia, has been supporting students and staff in exploring and strengthening their creativity, encouraging their self-expression, providing them with the right space and environment, as well as guiding them towards new possibilities and directions throughout their carrier through her courses.
---
About Marietta Kontogianni
Marietta Kontogianni is a Greek journalist based in Athens, founder of JEWELRYbox Magazine on Facebook. She has been working as a journalist for more than 20 years collaborating with newspapers, magazines and TV channels.
Meanwhile, she has been creating fashion beaded jewelry herself.
When the newspaper she was working for since 1995 bankrupted, she decided to found the bilingual (Greek-English) FB JEWELRYbox Magazine to keep on working as a journalist, to network with the people involved in the jewelry world and to express her passion for jewelry.
Up to now, she has been interviewing the prominent and emerging Greek and international artists who show their work in Athens and abroad.
Furthermore, her JEWELRYbox Magazine has been a media sponsor of both Greek jewelry platforms: A Jewel Made in Greece and Athens Jewelry Week.
Her future plan is to have a website built to promote the Greek jewelry history.e-mail:kontogiannimar@yahoo.gr
Facebook: www.facebook.com/JEWELRYbox.magazine
Website and blog on Wix: kontogiannimar.wixsite.com/profile
Linkedin: www.linkedin.com/in/mariettakontogianni/
Pinterest: gr.pinterest.com/jewelryboxmagazine/
---