HS PF Pforzheim University, School of Design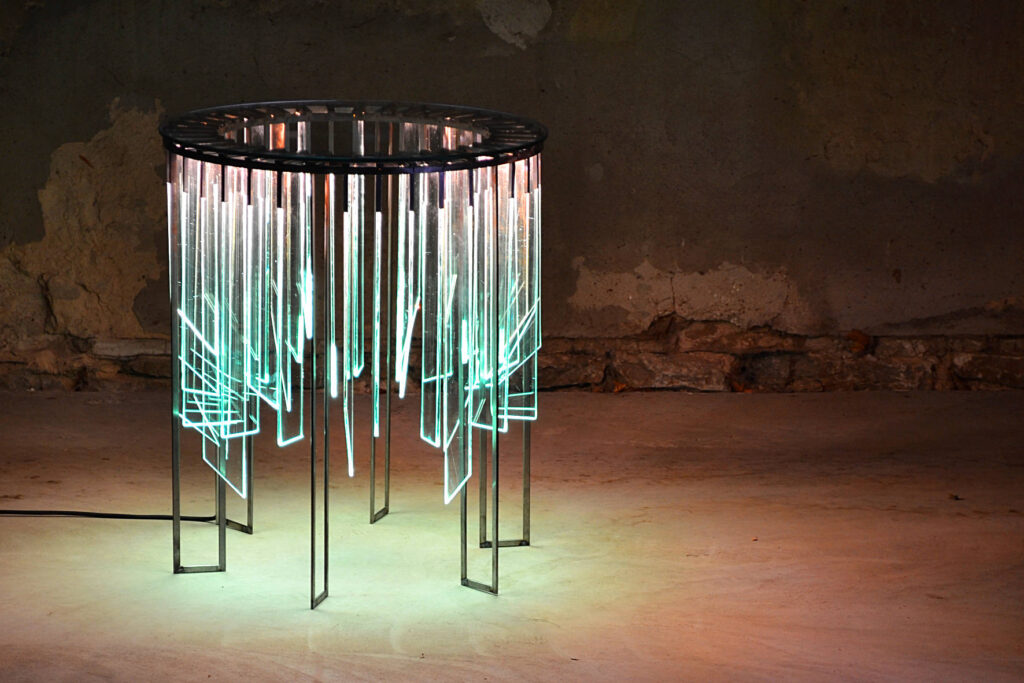 Anina Löwe
Means For the Purpose
lamp #2
Glass, steel, led,
Means to an end is a phenomenon we encounter every day. It is an instrument with which one can reach a goal in a focused way. Often it plays only a secondary role and receives less attention than the goal that is ultimately to be achieved. In her final thesis Anina Löwe deals with the "means to an end" and applies the phenomenon consciously.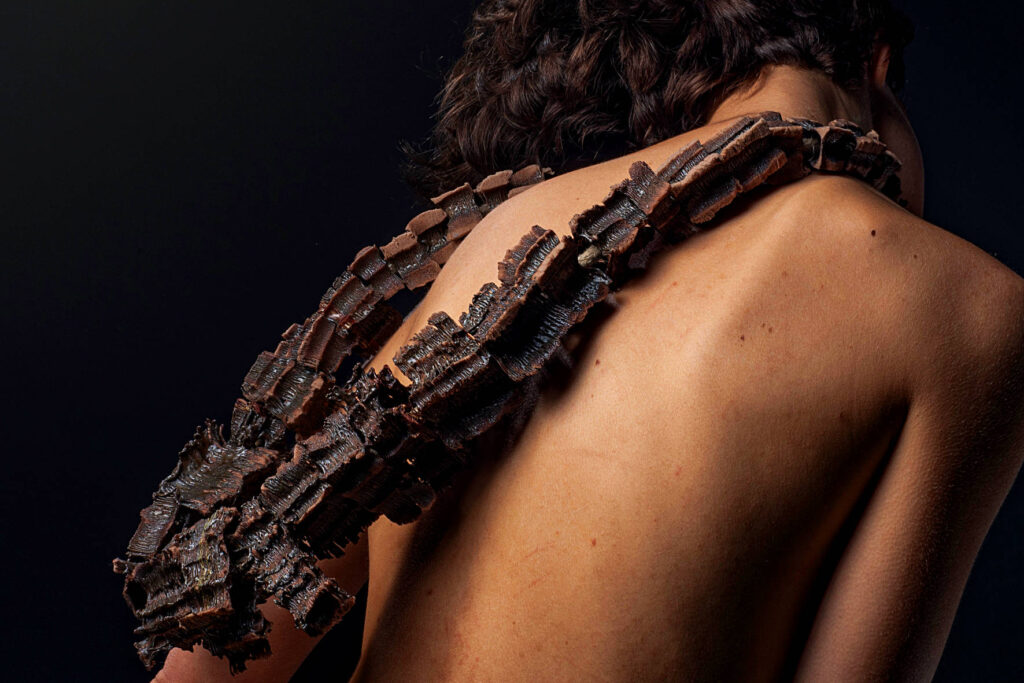 Bo Zhang
Chamäleon
Necklace
Stockings
The main material in Bo Zhang's graduate work are stockings, which through melting transform into unique forms. Working with fire on the one hand represents destruction and on the other hand symbolizes new life. It can destroy everything and give the object a new look and colour... The final pieces show how artificial materials can imitate natural materials in an amazing way. Chameleons can adapt to their environment through camouflage.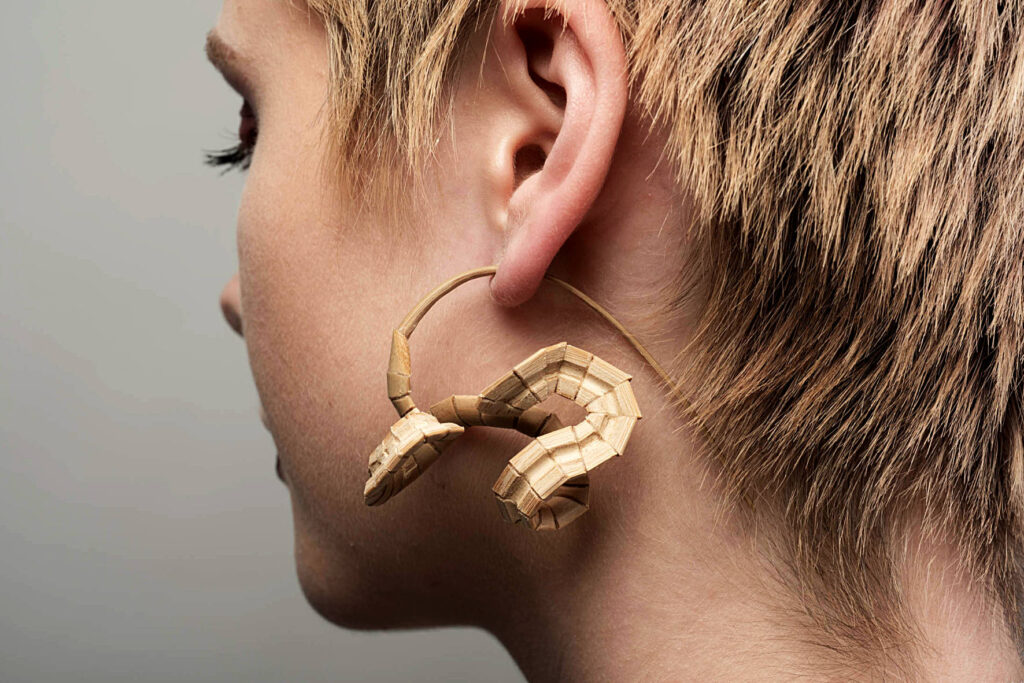 David Saavedra
Bambus
Earring #2
Bamboo
For the jewelry Bambus, bamboo is split in half and sawn into small sections with different angles. The angles determine the direction and shape of the jewelry when the sections are glued together again. The resulting dynamic gives them something animalistic or insect-like - an independent language of forms is created, which develops from the material and the way it is handled... What is exciting is that the pieces look different and interesting from every perspective ¬– each piece from the collection also functions as an object that invites interpretation.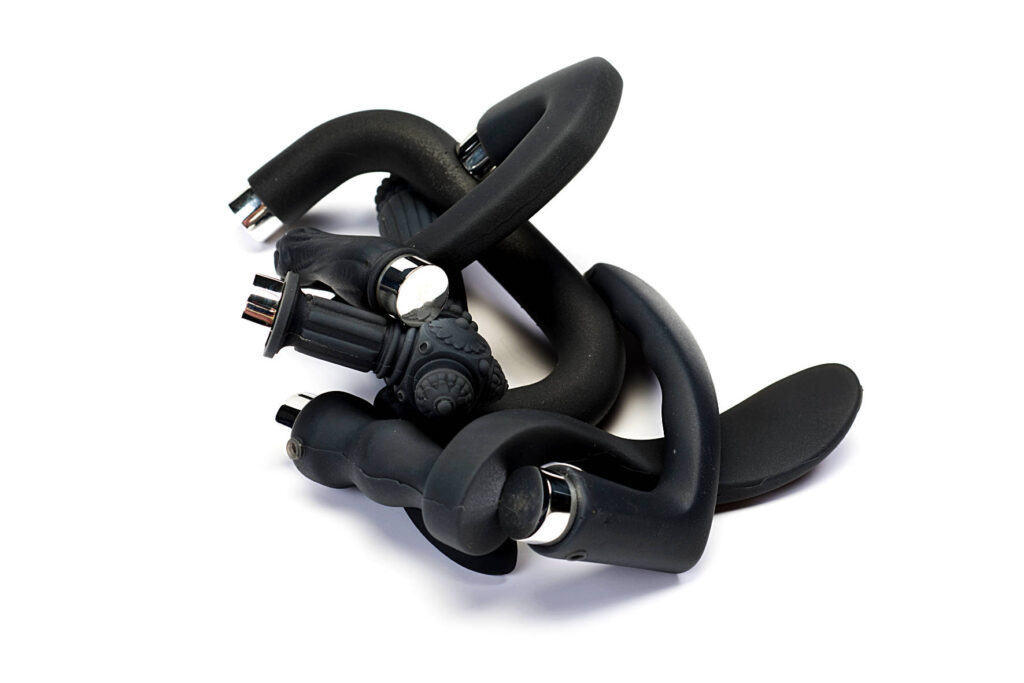 Laura Stachon
Misappropriate
Body Object
Silicone, German Silver, Silver Plated, Magnets
Misappropriate sees itself as a method dedicated to the ordinariness of life, in order to create absurd and uncanny images of reality out of them. The practical work focuses on the alienation of the door handle, which is an essential part of our everyday life... Human characteristics have been breathed into this banal form, which we unconsciously reach for every day, and it suddenly seems more familiar and at the same time more strange than ever. Through an invisible force, the door handles can connect with each other and finally reach for the hand.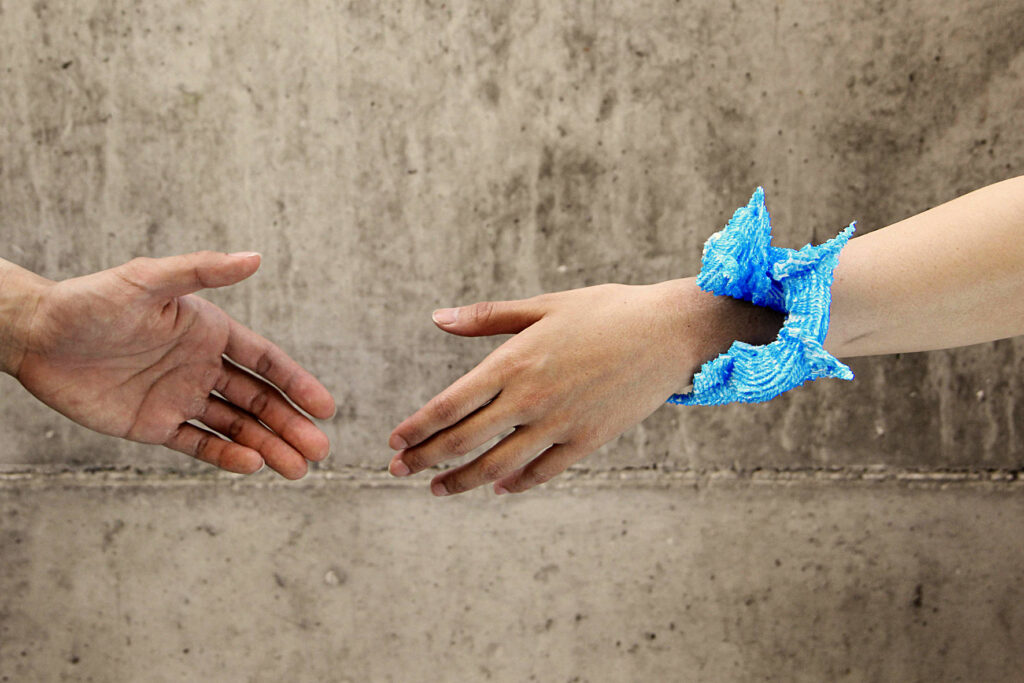 Lifu Zhou
Muricipolylene
Cuff
Disinfected Used Hygiene Mask, Nickel Silver
In regards to sustainability, I looked at things from my everyday life, which currently is the disposable face mask. We produce a lot of waste through these masks. According to research, disposable mask waste contributes massively to marine pollution. They contain polypropylene, so their decomposition in the sea theoretically takes 450 years... By means of an artistic processing I give the masks aesthetics and a value so that the viewer would like to wear them again. At the same time it is an incentive for people to pay attention to the marine pollution caused by masks.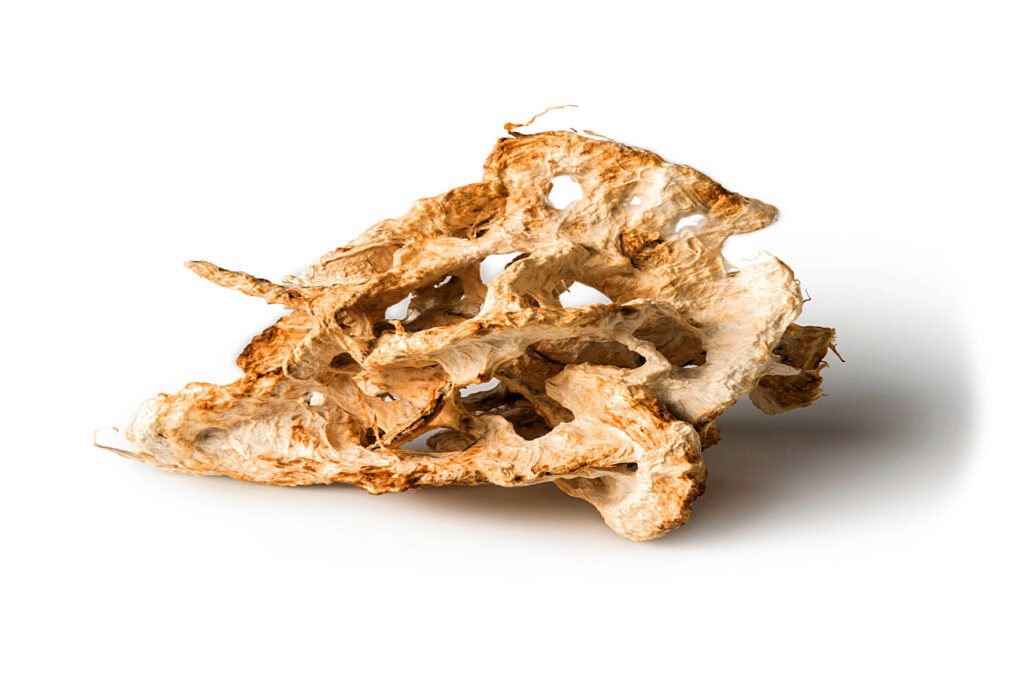 Lingjie Wang
HiddenPower
Brooch
Waterproof Paper, Rice Paper, Mullberry Tree Rind
Hidden power represents different feelings and insights in the perceptual system and contains several meanings in different contexts. It is a gradual strength that breaks through the material characteristics of initial impressions through the interaction between materials and environment. It is a pulling force that connects the separate front and back sides of the pieces, allowing the objects to be attached to clothing and become jewelry It can be considered as a force of transformation, capable of transforming the abstract into the concrete, scraps into treasure...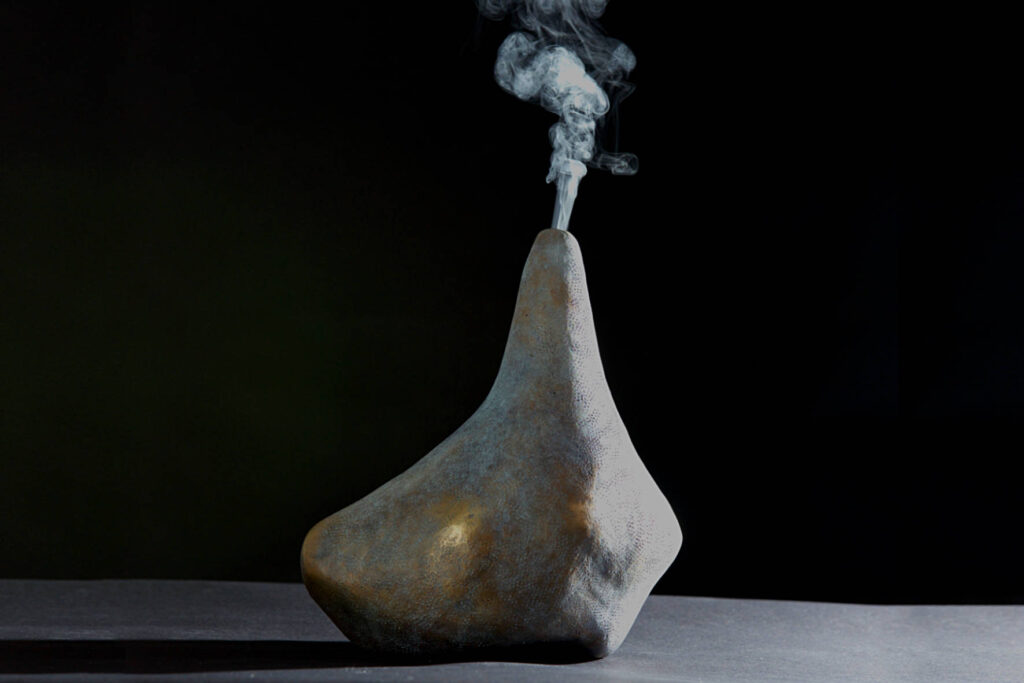 Sonja Keppler
Incense burner #10
Object
Bronze
Smoking has a long history, closely related to human rituals. "Per fumus" means something like "through smoke" and from this word comes the word perfume. So fragrance has been associated with smoke early on. Even today, burning incense occurs in numerous cultures, not only in sacred rituals, but also in the profane. The subject of smoke and objects is a very sensual and aesthetic one, it combines material and the immaterial. In her thesis, Sonja Keppler deals with the tradition of burning incense and puts it in a new context.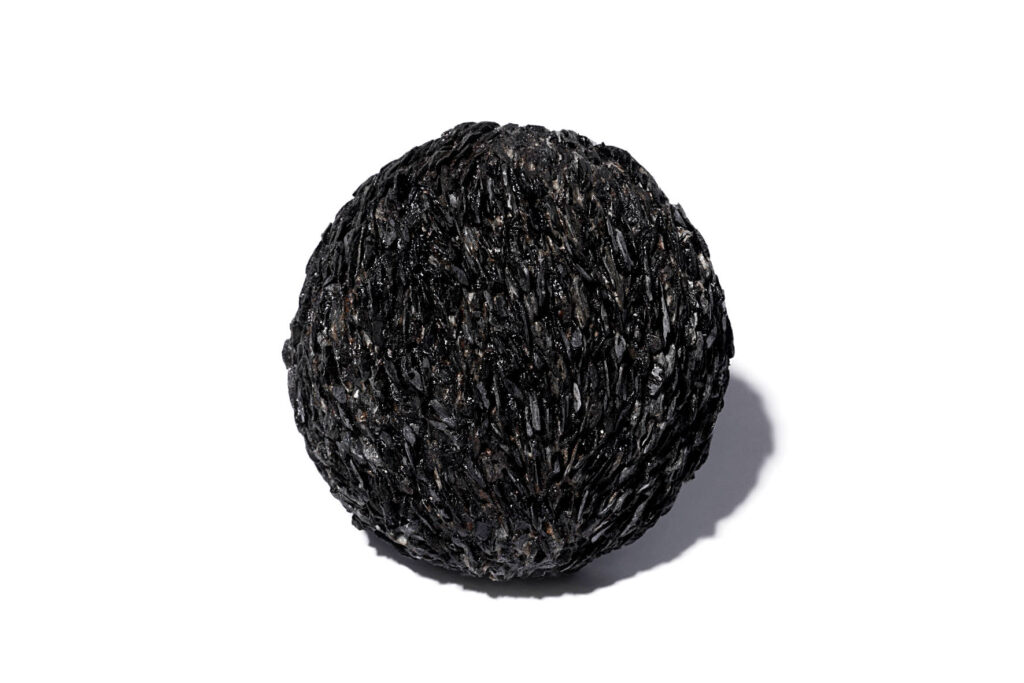 Tzu-Yun Hung
Identität
Brooch #5
Shale, Sticky-Rice Powder, Japanese Lacquer
The creation of the series, which comprises three pieces of jewellery, was preceded by an investigation into questions of life in linguistically and habitually foreign communities. To what extent can one change and adapt one's own identity? And what kind of consequences may adaptation have for one's own self? Tzu-Yun Hung collected materials from her home region in Taiwan and her new home in Germany, transformed them and combined them with each other. The results are objects whose homogeneous surfaces reveal nothing about the diverse origin of their parts.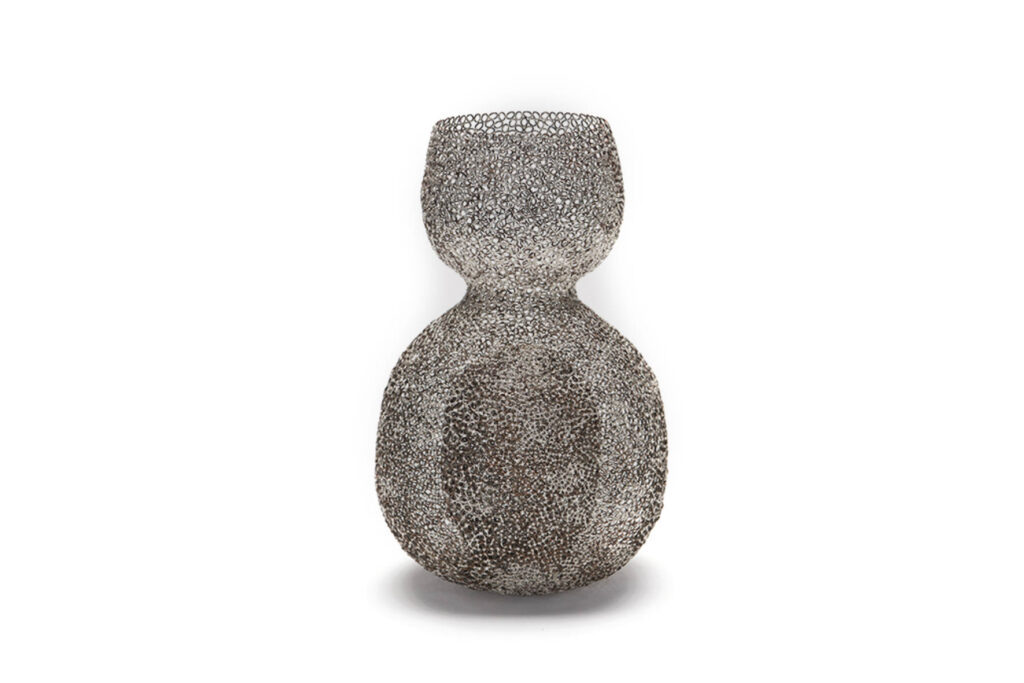 Xin Liu
Piece #3_2019: bronze, silver solder, 148x168x255mm
Hand Piece
Bronze, Silver Solder
"Xin Liu has developed a technique that while inspired by the layering process of 3D printing, wholly celebrates handcraft. Through the painstaking connection of small individual elements, his forms grow organically in layers that create overlapping volumes, shapes within shapes and envelope gems within their structure. The transparency of the forms coupled with the almost pointillistic impression of the accumulating small elements lend the pieces a visual ephemeralness, while achieving a physical robustness. They exude an enchantment that draws us in..." Prof. Christine Lüdeke
---
The works of these students sharpen our view of the familiar and the everyday. They question structures which we ourselves promote consciously and subconsciously. They expose relationships that influence our lives, explore the magic of one's own doing, and search for the essence of being human in the tangible as well as the intangible. That which is felt is visualized, materialized. Technical developments seduce us, material, and process characteristics reveal the beauty in unexpected moments.
/Prof. Christine Lüdeke / Head of Jewelry department
---
https://designpf.hs-pforzheim.de/studiengaenge/bachelor_of_arts/schmuck/aktuelles