Oslo National Academy of the Arts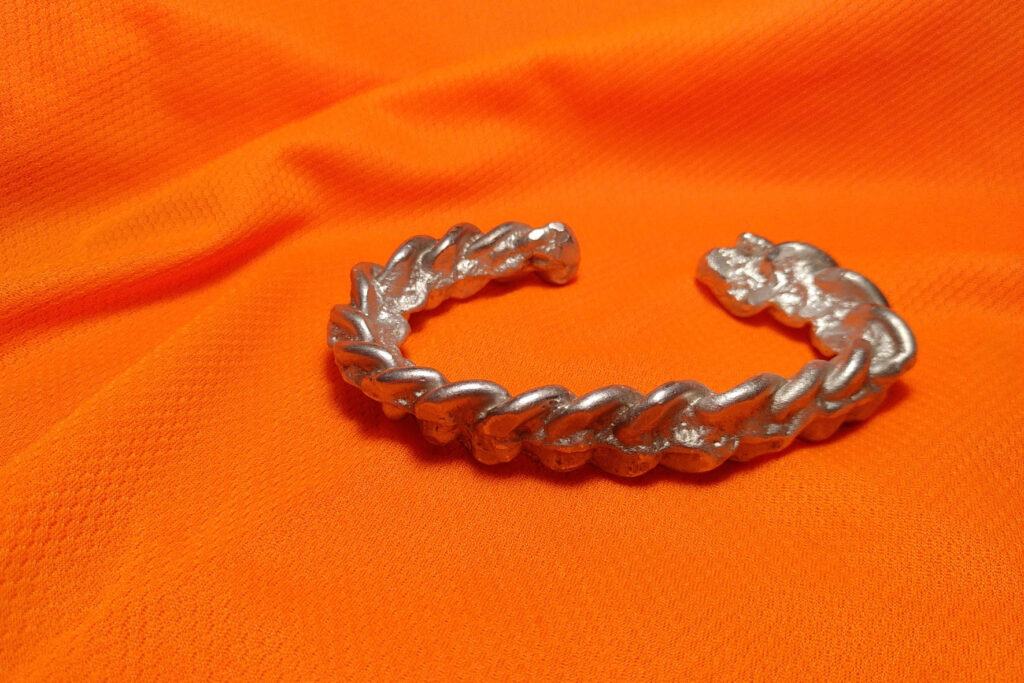 Ingmar Nilsen
Fake-Ass Chains
Pendant / Cuff
Casted Aluminum
Chains are, something that holds things together. A captor to the prisoner, a boat to an anchor, a person to their wealth. A chain is defined by its links, made up of solidified material interconnected to make up a flexible form. In Fake-ass Chains, I am exploring the representational aspects of chain link jewelry by making jewelry representing chain link.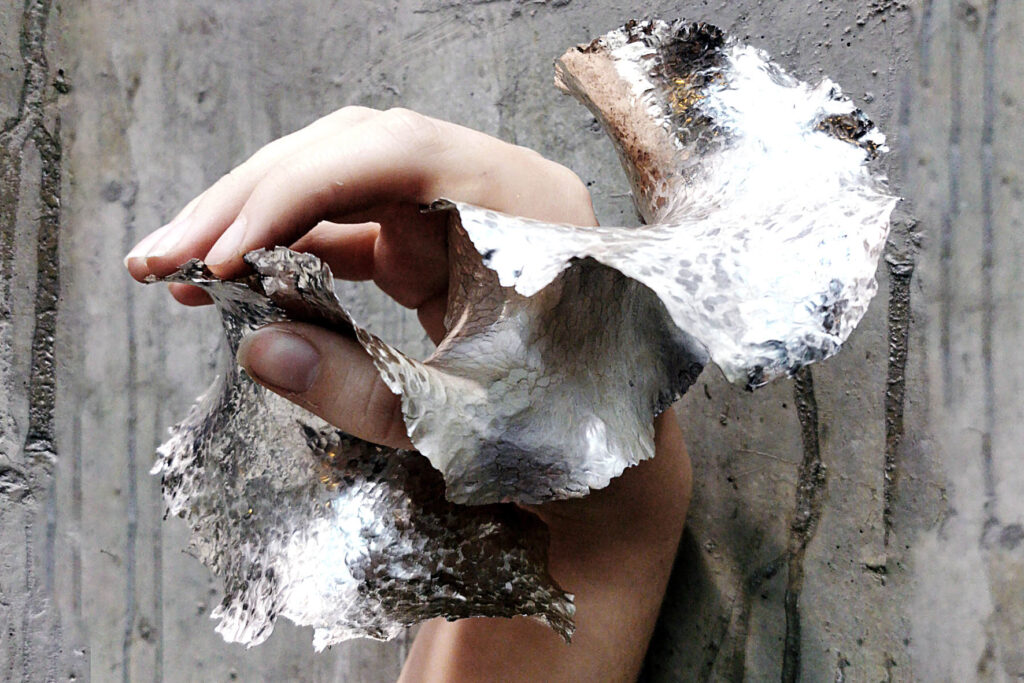 Ingvild Kristine Reinton
Oscillations
Ring
Silver
Rivers trace the passing time. A swirl in a stream and the beat of a wave, are the structures of a small moment.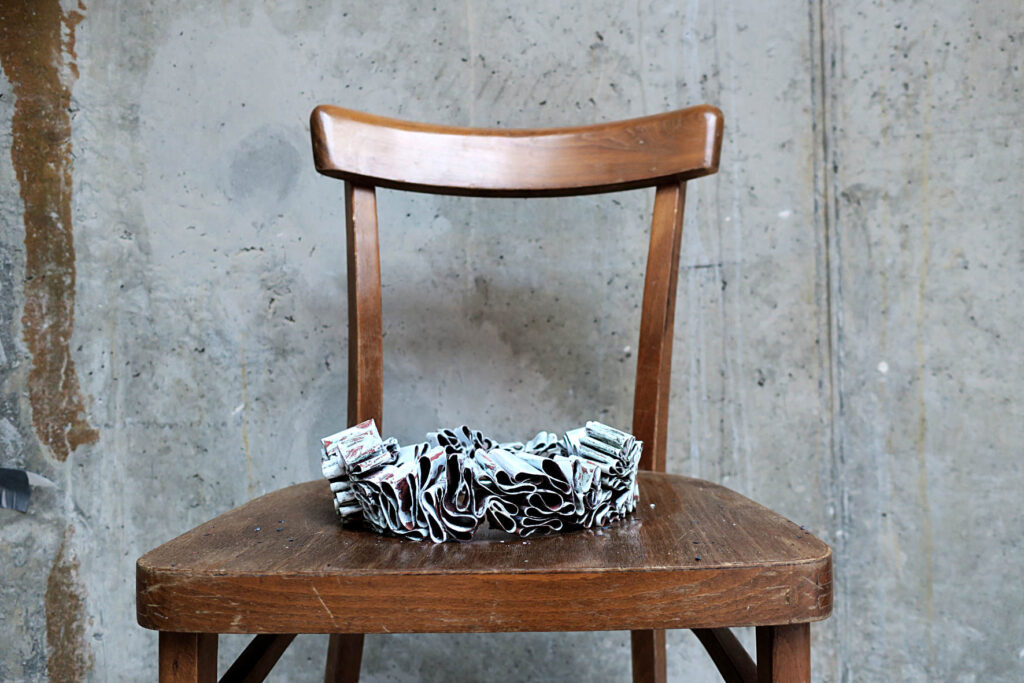 Josephine Echer
Layer Upon Layer
Crown
Copper, Enamel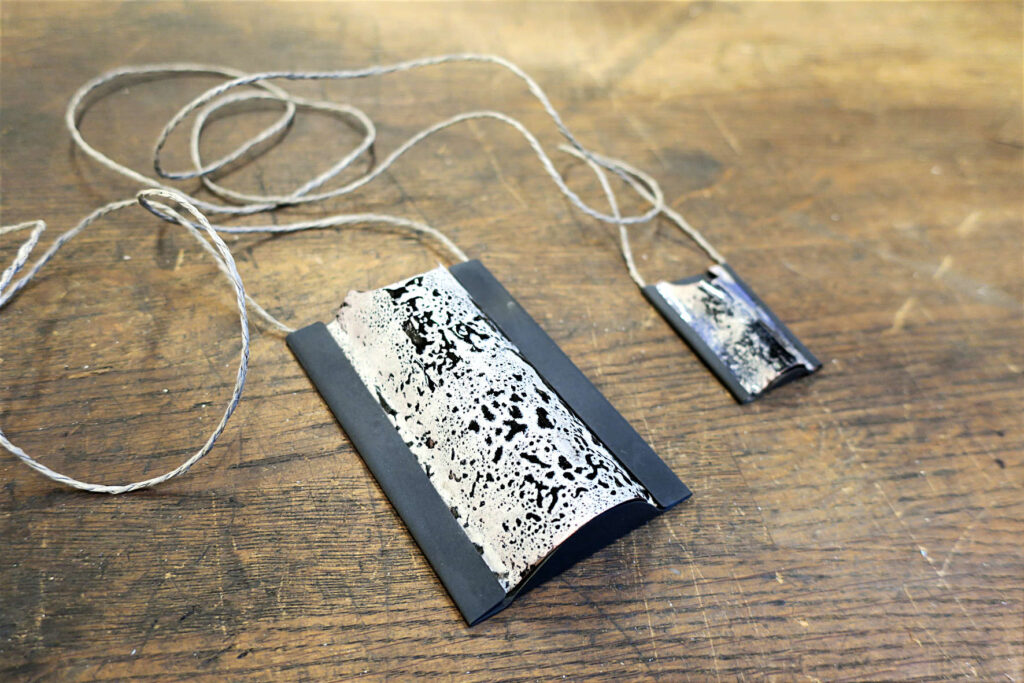 Tamara Marbl Joka
The Tunnels
Necklace
Enameled & Oxidized Copper, Paper Cord
«… at any rate, there is only a single tunnel, isolated and dark, my own." by Ernesto Sábato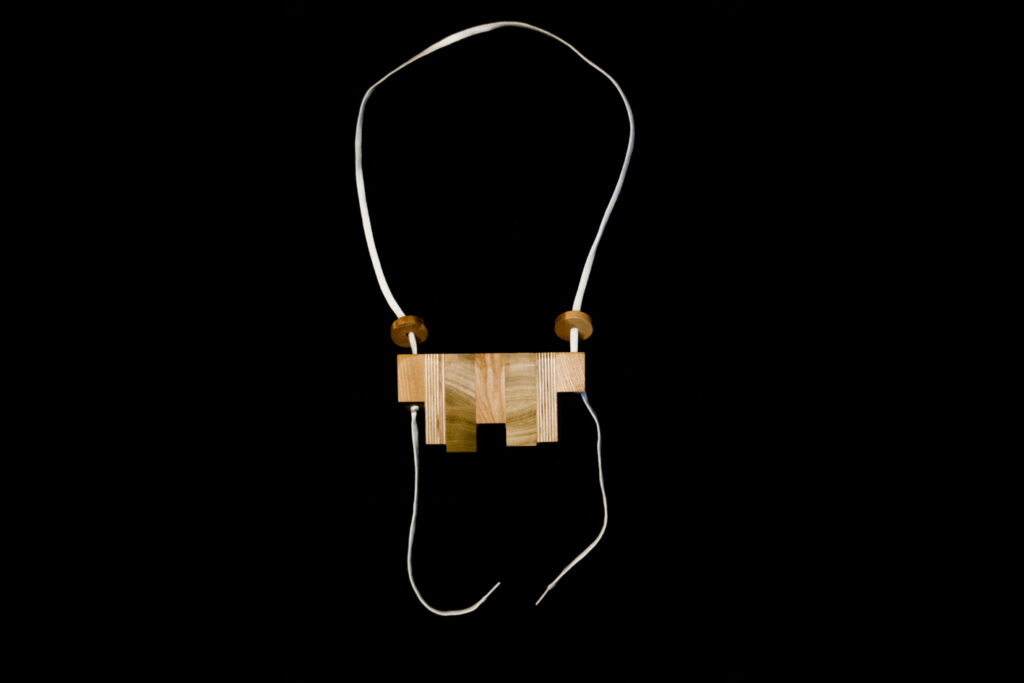 Dariusz Stefan Wojdyga
Together - Apart
Necklace
Wood, Plywood, Rope
Questioning the assumptions behind the wearing of diamonds and gold I encourage to review our priorities, undermining assumptions about what counts as desirable by transmitting the everyday and ordinary new value. "A new life is given !!!" - I assume, and I leave a space to the potential wearer to put a new value and meaning into the object and to implement personal statements, attitudes and stories.
---
No White Background Exhibition
---
"Once you learn to care, you can record images with your mind or on camera.
There is no difference between the two."
— Anonymous
What do we want to express when we capture our work in an image?
What is the essence of what we want to express?
For Athens jewelry week we wanted to change the white background and show a different atmosphere in the image of the work, show it in a context and in a completely different and personal way.
What is an image? How do you communicate? And how it is perceived?
This is the beginning of a project that will continue to grow and develop at the Metal and Art Jewelry Department of the Oslo National Academy of the Arts.
---
About Jorge Manilla:
Internationally recognized Mexican jeweler, artist, and academic based in Belgium.
Since 2017 he has been a full professor in the thematic area of metals and artistic jewelry at the Oslo National Academy of Arts in Oslo, Norway. His work has been acquired by museums, collections, and private foundations around the world.
Parallel with his artistic and academic practice, Jorge works tirelessly on tutorial projects especially in South America, and collaborates with a large number of contemporary jewelry events.
-Athens Jewelry Week
-Melting Point
-Brazil Jewelry Week
-Latinoamerican Biennial of contemporary Jewelry
Among other independent projects
Participant Students:
BA 2 and BA3 students: Tamara Marbl Joka / Dariusz Wojdyga / Josephine Echer / Ingmar Nilsen / Ingvild Kristine Reinton
---